03 Mar 2023 05:30pm - 06:30pm
[Fireside Chat] First Step Into CUHK Start-up Community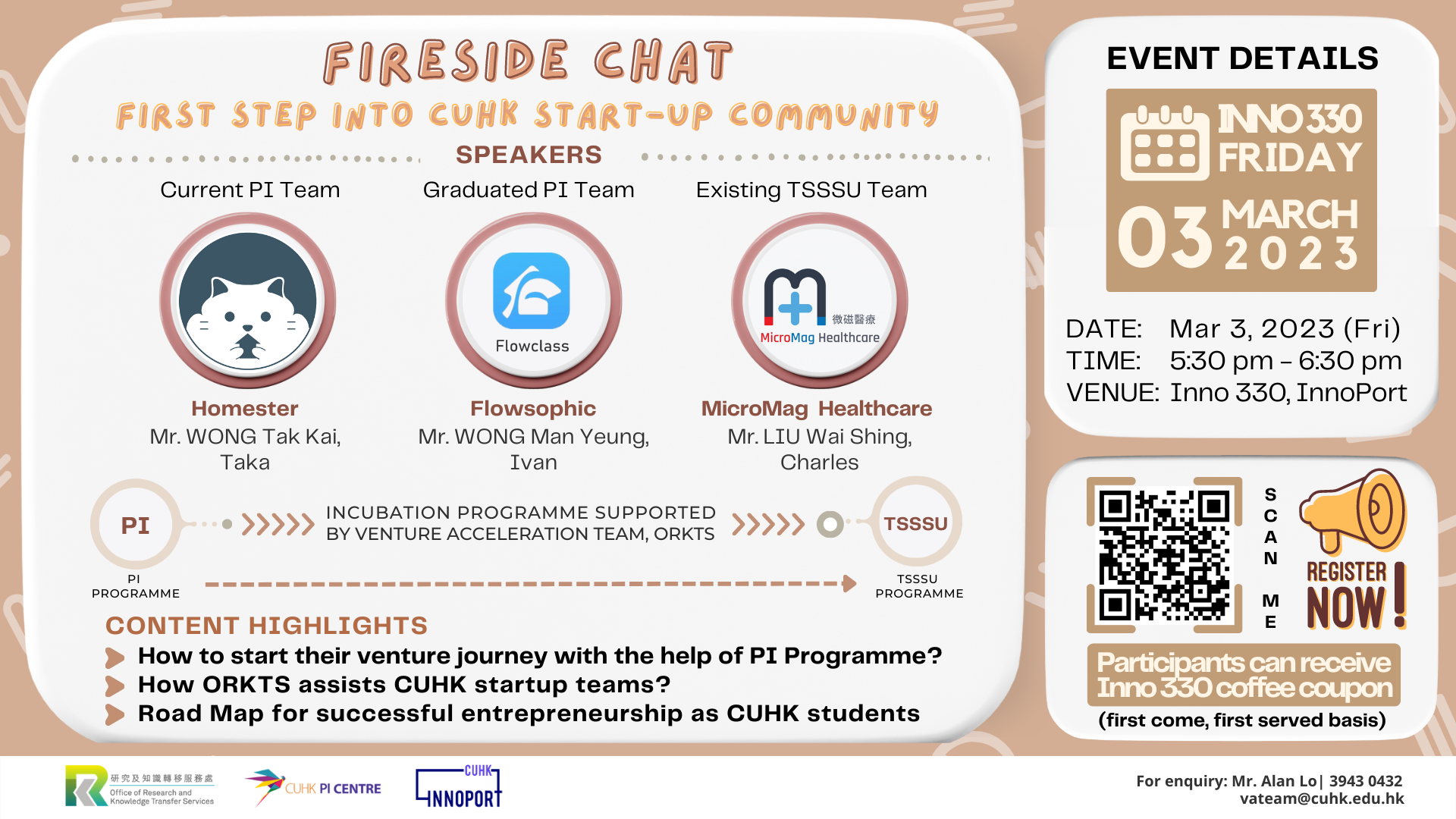 Event Date: 03 Mar 2023 05:30pm - 06:30pm
Type: Others
Organizer:
Coordinator: Venture Acceleration Team, Pre-Incubation Centre (Pi Centre), InnoPort
Content Highlights
In this session, we are honored to have Taka WONG from Homester, Ivan WONG from Flowsophic and Charles LIU from MicroMag Healthcare Limited as the guest speakers to give a sharing about their startup journey at CUHK PI Centre, how ORKTS and PI Centre help with their startup and the roadmap for successful entrepreneurship as CUHK student.
Speaker
Mr. Wong Tak Kai Taka, Homester

Homester targets a matching platform for university students and graduates. Our platform aims at providing a reliable, one-stop roommate pairing and rental agency services of co-living for graduates and students.

We will be cooperating with Wu Yee Sun College. Providing a free roommate matching service to enhance hostel living experience and sense of belonging to the college. The matching system will encourage cultural diversity to facilitate cultural exchange between students.

Our service aims relieving the housing cost of university students, mainland students and graduates. Promoting the co-living culture and a way out for Hong Kong housing problem. A probational co-living scheme will push users to try co-living too. We are exploring other add-on services to increase our market potential.


Mr. Wong Man Yeung Ivan, Flowsophic

Flowclass from Flowsophic is a powerful web app that allows educators to market their courses and recruit students. We are for:
Small-to-medium education centres & class-based institutions (gyms, galleries, etc.) which are expanding their class sizes
Private tutors & working professionals who teach classes as their side hustle.
We provide a No-Code tool for educators to create landing pages that attracts students as well as a booking & payment system to smoothen the enrollment process. To help educators engage their students, we automated the process of sending class reminders and collecting reviews from students as testimonials to prove their traction.


Mr. Liu Wai Shing Charles, MicroMag Healthcare

MicroMag Healthcare Limited is a start-up from the Advanced Nanomaterials & Microrobotics Laboratory (ANML) in CUHK. In 21st century, infectious diseases are still burdening our society and cause more than 20,000 lives lost daily. Early detection is essential for timely treatment and prevention. Existing diagnostic methods face limitations in long reaction time, high costs, or require specialists to conduct labour-intensive procedure. MicroMag is committed to preventing infectious outbreak and saving lives by providing clinicians and patients with instant, easy, accurate and automated diagnosis through innovative microrobotic technology.