02 Mar 2023 06:00pm - 07:00pm
Legal Series 3: Teams that Earn Equity Together, Excel Together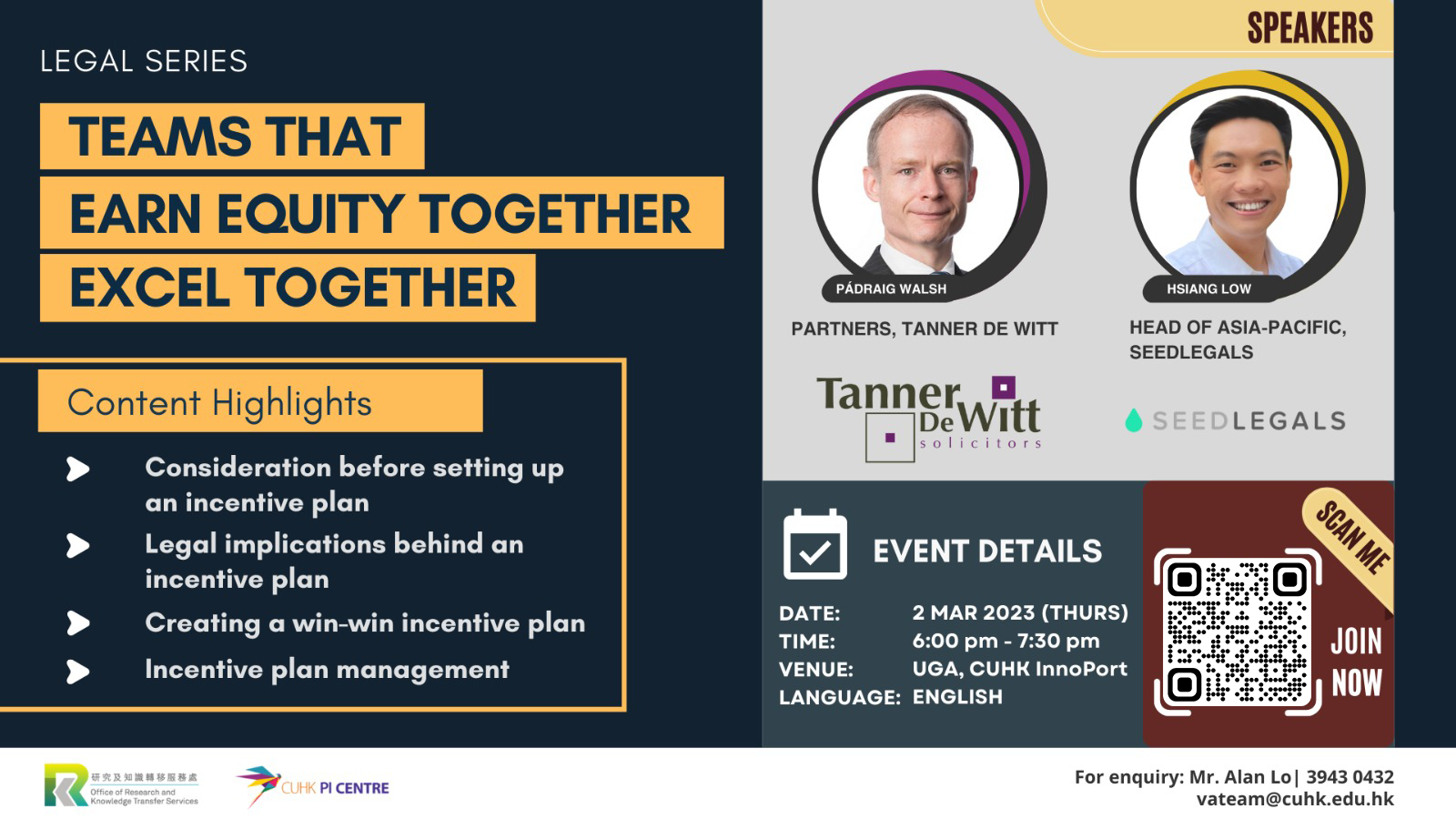 Event Date: 02 Mar 2023 06:00pm - 07:00pm
Type: Seminar
Organizer:
Coordinator: Venture Acceleration Team
Content Highlights
This session is an introduction to incentive planning such as share option scheme (ESOP). What do you consider before setting up an incentive plan? What is the legal implications behind an incentive plan? How to create a win-win incentive plan and How to managea incentive plan? The seminar will go through all these contents with valuable market data sharing to attract, reward and retain top talents.
Speaker
Pádraig is a partner in the Corporate and Commercial department and Head of the TMT practice of Tanner De Witt. Pádraig's practice focuses on venture capital and related corporate work. His work encompasses advice on private equity and debt financing, leading on investment negotiations and completion, and preparing documents to implement deal terms. He also advises on the range of common issues for emerging companies, such as corporate structuring, on licensing, regulatory and compliance, IP licensing, personal data privacy, equity incentive plans, and shareholder disputes. He represents both investors, strategics, and founders. His experience in this area has enabled him to advise clients on several innovative, complex projects and is at the forefront of advising on legal issues for emerging businesses using blockchain technology.
Pádraig is a member of the Fintech Association of Hong Kong, ITechLaw, and PrivacyRules. He provides legal training to clients and incubation or accelerator programmes, and is also a regular speaker and writer on trending issues in the tech scene.
Hsiang is Head of Asia-Pacific at SeedLegals, a company that automates the legals for early-stage startups and investors to streamline the fundraising process. At SeedLegals, Hsiang oversees the APAC business, product and operations. His
role includes developing strategy, working closely with founders and investors to optimise product and service delivery for local markets, and negotiating unique partnerships to create value for startups across the ecosystem.
Prior to joining Seedlegals, Hsiang practised as a lawyer at magic circle law firm Linklaters for over 10 years. During his time at the firm, Hsiang also co-founded Nakhoda, Linklaters' in-house legal tech startup. Having had his own startup experience, Hsiang is passionate about making use of his legal and technology expertise to help startup founders navigate through their early stage journey.

Hsiang currently also serves as a steering committee member of the Asia-Pacific Legal Innovation and Technology Association (ALITA). Work aside, Hsiang enjoys spending his time outdoors in nature.