16 Dec 2022 11:00am - 12:30pm
ORKTS Webinar Series | How to Protect Your Inventions: Patent 101 & New Patent Funding Schemes at CUHK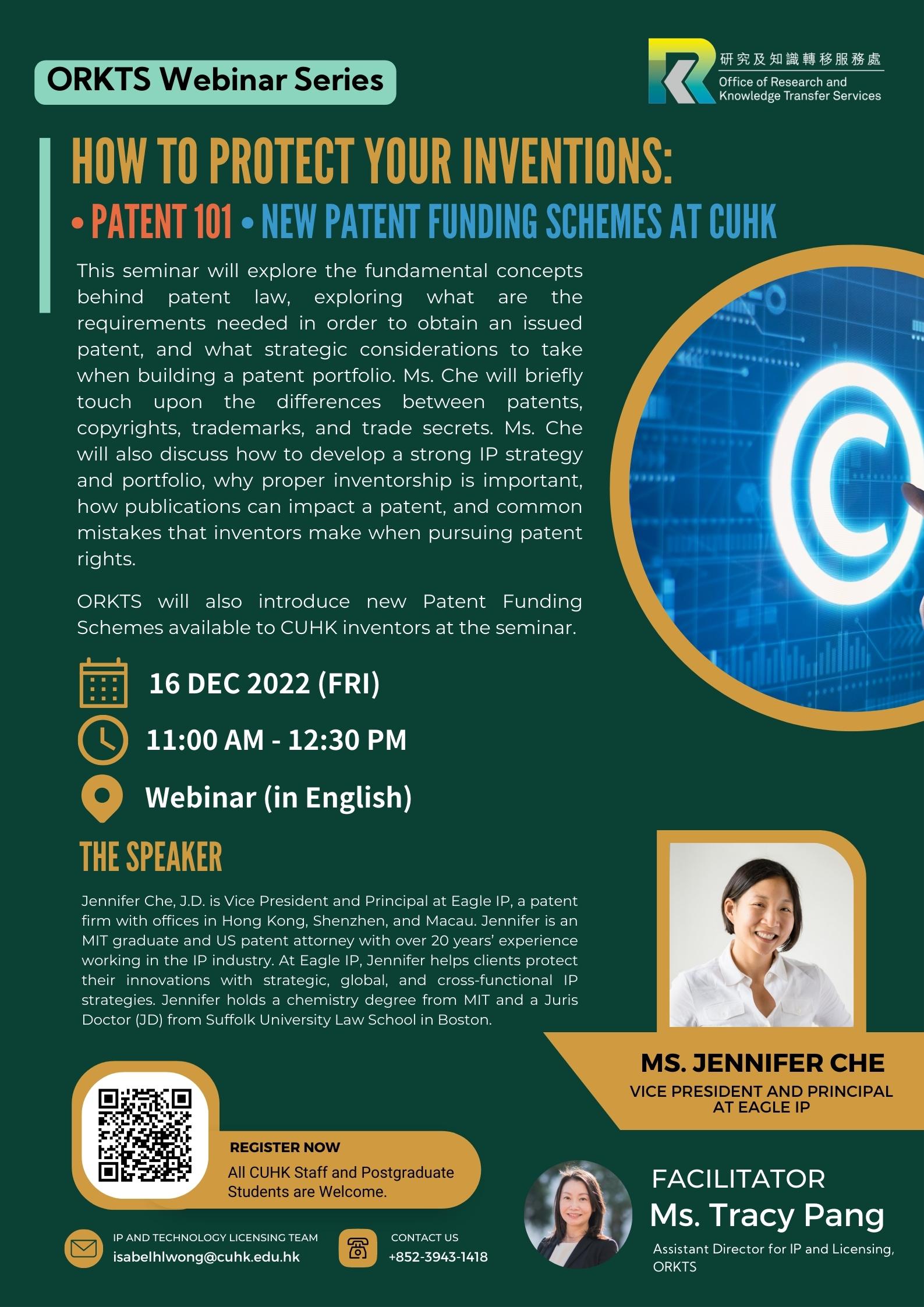 Event Date: 16 Dec 2022 11:00am - 12:30pm
Type: Seminar
Organizer: Office of Research and Knowledge Transfer Services
Coordinator: IP and Technology Licensing Team
Date: December 16, 2022 (Friday)
Time: 11:00 am – 12:30 pm
Mode: Zoom
Medium: English
Registration: https://cloud.itsc.cuhk.edu.hk/webform/view.php?id=13659833 (Zoom link will be sent upon confirmation)
Facilitator:
Ms. Tracy Pang
Assistant Director for IP and Licensing
Speaker:
Ms. Jennifer Che, J.D.
Vice President and Principal, Eagle IP
Jennifer Che, J.D. is Vice President and Principal at Eagle IP, a patent firm with offices in Hong Kong, Shenzhen, and Macau. Jennifer is an MIT graduate and US patent attorney with over 20 years' experience working in the IP industry. At Eagle IP, Jennifer helps clients protect their innovations with strategic, global, and cross-functional IP strategies. Jennifer holds a chemistry degree from MIT and a Juris Doctor (JD) from Suffolk University Law School in Boston.
Topic: How to Protect Your Inventions: Patent 101 & New Patent Funding Schemes at CUHK

Whether for a solo inventor, university, start-up or a large company, one of the most crucial elements - one that can greatly impact the ultimate value of you invention - is how well you have protected your IP. Having good IP protection is much more than making sure you have "filed a patent" on your core technology. Good IP protection involves complex layers of analysis based on the timing of various business activities and decisions, R&D progress, and the current state of the law globally. Devising a proper strategy in view of all of these factors is crucial for success.
This seminar will explore the fundamental concepts behind patent law, exploring what are the requirements needed in order to obtain an issued patent, and what strategic considerations to take when building a patent portfolio. We will briefly touch upon the differences between patents, copyrights, trademarks, and trade secrets. We will also discuss how to develop a strong IP strategy and portfolio, why proper inventorship is important, how publications can impact a patent, and common mistakes that inventors make when pursuing patent rights.
ORKTS will also introduce new Patent Funding Schemes available to CUHK inventors at the seminar.