12 Oct 2022 02:30pm - 03:30pm
CUHK and CUHK(SZ) Joint Seminar Series: A Success Story: From Pharmaceutical Technology to Entrepreneurship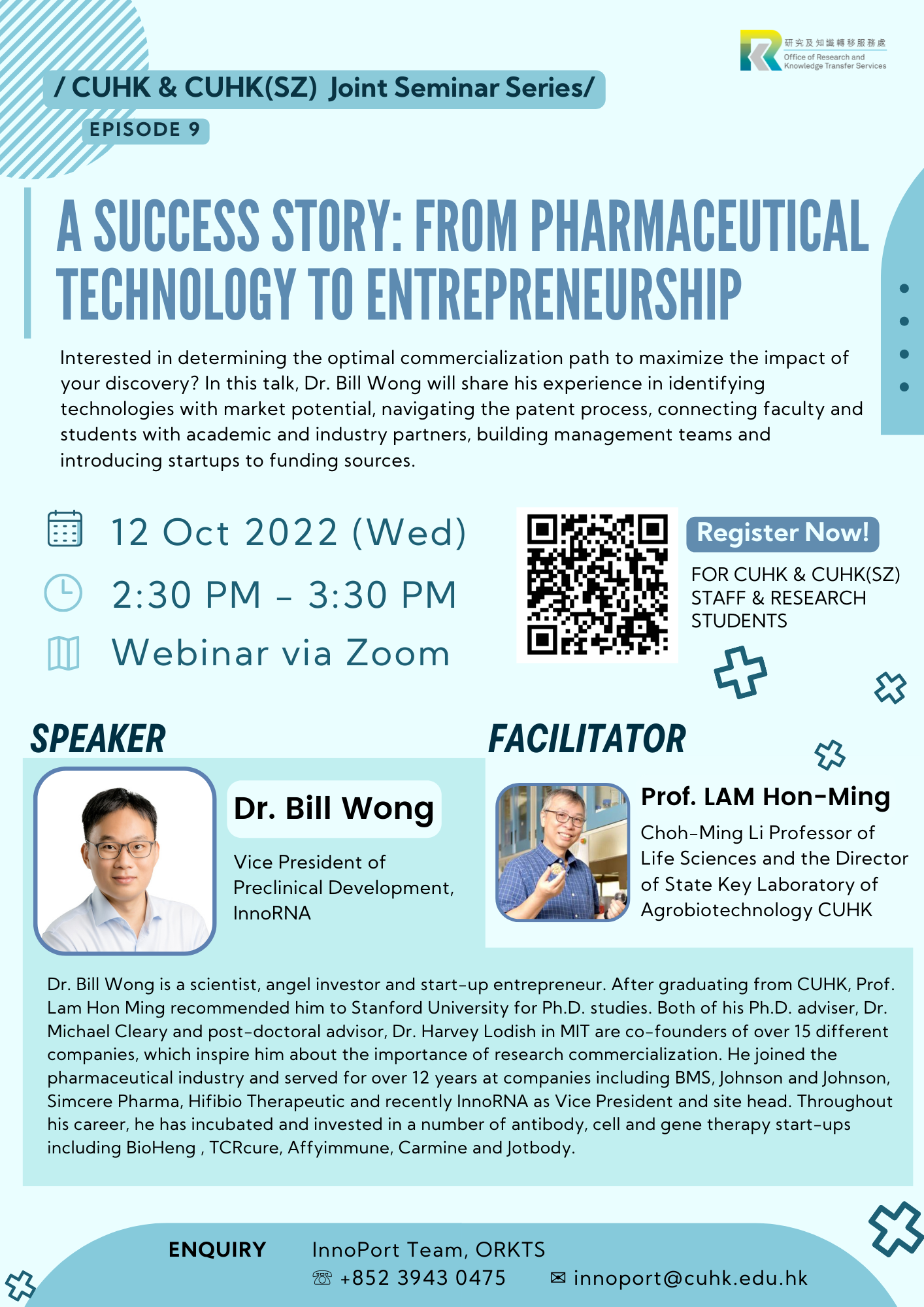 Event Date: 12 Oct 2022 02:30pm - 03:30pm
Type: Seminar
Organizer: Office of Research and Knowledge Transfer Services
Coordinator: InnoPort
Date: October 12, 2022 (Wednesday)
Time: 2:30 – 3:30 pm
Mode: Zoom
Medium: English
Registration: https://cloud.itsc.cuhk.edu.hk/webform/view.php?id=13648796 (Zoom link will be sent upon confirmation)
Speakers:
Dr. Bill WONG
Vice President of Preclinical Development, InnoRNA

Dr. Bill Wong is a scientist, angel investor and start-up entrepreneur. After graduating from CUHK, Prof. Lam Hon Ming recommended him to Stanford University for Ph.D. studies. Both of his Ph.D. adviser, Dr. Michael Cleary and post-doctoral advisor, Dr. Harvey Lodish in MIT are co-founders of over 15 different companies, which inspire him about the importance of research commercialization. He joined the pharmaceutical industry and served for over 12 years at companies including BMS, Johnson and Johnson, Simcere Pharma, Hifibio Therapeutic and recently InnoRNA as Vice President and site head. Throughout his career, he has incubated and invested in a number of antibody, cell and gene therapy start-ups including BioHeng, TCRcure, Affyimmune, Carmine and Jotbody.
Topic: A Success Story: From Pharmaceutical Technology to Entrepreneurship
Interested in determining the optimal commercialization path to maximize the impact of your discovery? In this talk, Dr. Wong will share his experience in identifying technologies with market potential, navigating the patent process, connecting faculty and students with academic and industry partners, building management teams and introducing startups to funding sources.

Facilitator:
Prof. LAM Hon-Ming
Choh-Ming Li Professor of Life Sciences, School of Life Sciences
Director, State Key Laboratory of Agrobiotechnology, CUHK

Choh-Ming Li Professor of Life Sciences and the Director of State Key Laboratory of Agrobiotechnology CUHK, Professor LAM Hon-Ming, devoted decades of scientific research to realize his dream of "bringing soybean home". His main research interest includes climate-smart and sustainable agriculture, plant and agricultural biotechnology and genomic studies on crop-environmental interaction. Using the research platform he established, Prof. Lam has been dedicated to train young scientists. Many of his students continue to pursue their career in various sectors of science and education.