Results Announcement | SDGs x NFT Design Competition (17 Feb 2023)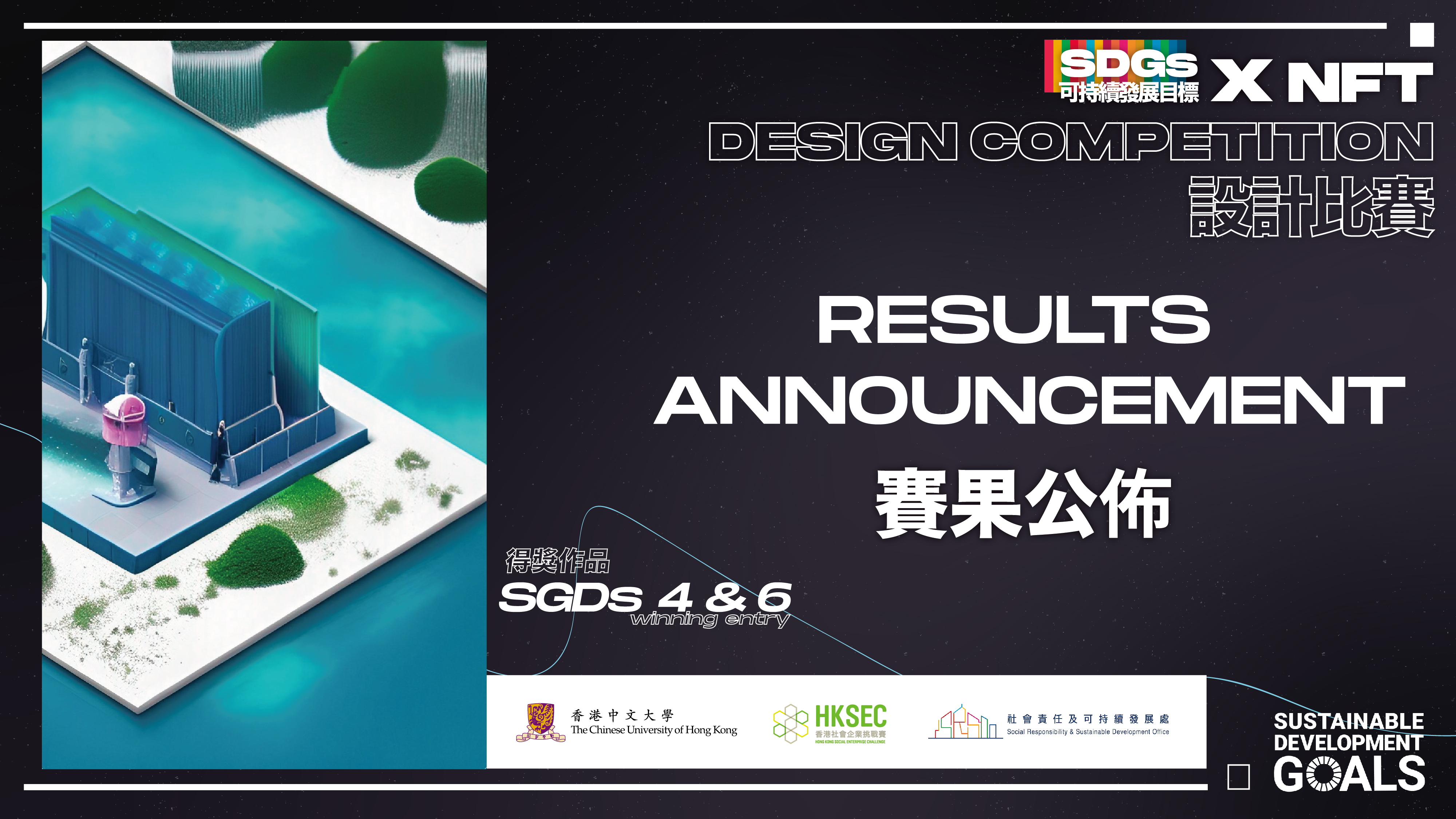 We are pleased to announce the winners of the SDGs x NFT Design Competition!
Co-organised by the Hong Kong Social Enterprise Challenge (HKSEC) and CUHK Social Responsibility and Sustainable Development Office (SRSDO) jointly, SDGs x NFT Design Competition aims to raise Hong Kong youth's awareness of the Sustainable Development Goals (SDGs), to and encourage all CUHK staff, students, alumni and their family members to articulate their imagination on the society and vision of SDGs in the future by designing their own NFT artwork.
Three entries have been selected out of all digital works submitted by over 70 participants. The winning works have been minted as NFT and the creators of each work get to become the first owner of their minted works! Enjoy the display of creativity below in celebration of the winners:
Creator(s):

Revina Olivia CHRISTIANTO
William LEE
Jake Douglas Paul MAYNARD
SO Pak Yuen
Hazel YANG

Education is essential in taking climate actions. Awareness on environment issues can be raised by education. Quality education also leads to innovative technology which helps improving quality of water. With good quality of water, we can achieve better health and environment.

Creator: Ai-Chih LEE

Together, and by taking action, we can restore the ocean's health! Plastics are present everywhere, and this design depicts a pair of hands rescuing a turtle from a mass of trash and plastic. The hands holding the turtle are comprised of a variety of shapes with varying skin tones, signifying that environmental conservation may begin with each and every one of us, regardless of our ability or race.

Creator: Ai-Chih LEE

Hands with red and blue coloring are shackled. Red and blue stand for the conventional/stereotypical hues used to depict men and women, respectively. Handcuff represents the idea that the concept of gender is limited to gender binary by using the gender symbols for male and female. "Break the stereotypes" is the resolution for people being freed from the conventional gender framework that restricts sexual and gender variety. Purple is also included in the key's design since it has historically been linked to efforts for gender equality and represents justice and dignity.