15 Dec 2022 05:30pm - 06:30pm
Metaverse x CUHK Student startups : How "2" be innovative (15 Dec 2022)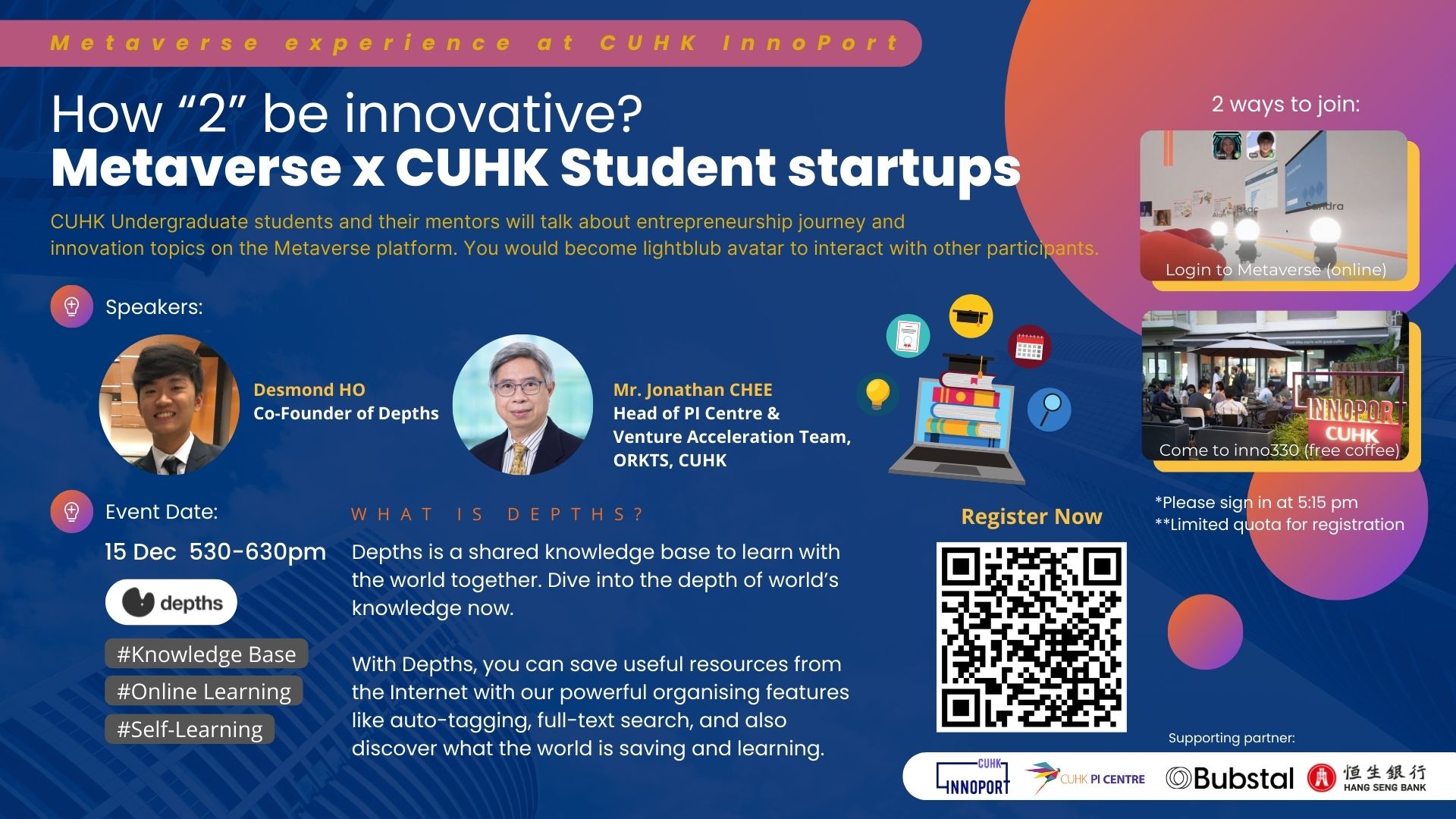 Event Date: 15 Dec 2022 05:30pm - 06:30pm
Type: Workshop
Organizer: Office of Research and Knowledge Transfer Services
Coordinator:
This is the 1st ever Metaverse experience at CUHK InnoPort. To promote entrepreneurship in the university, a series of networking events will be held from November to December covering topics about Web 3.0, Productivity for self learning and Biotech Education. Undergraduate students and their mentor (professors or industry partner) will talk about CUHK startups' entrepreneurship journey on the Metaverse platform.

Topic & Speaker:

Episode 3 # Innovative Learning
- Desmond HO (Co-Founder of Depths)
- Mr. Jonathan CHEE (Head of PI Centre & Venture Acceleration Team,ORKTS, CUHK)
Depths is a shared knowledge base to learn with the world together. Dive into the depth of world's knowledge now. With Depths, you can save useful resources from the Internet with our powerful organising features like auto-tagging, full-text search, and also discover what the world is saving and learning.
You may join ONLINE or physically come to inno330 (address: LG/F, InnoPort, Inter-University Hall, CUHK) to enjoy FREE coffee and face-to-face networking time.

Please prepare following items when joining the activity online:
-A Laptop with camera and mic
-Earphones
-Web browser: Google Chrome


Enquiry: innoport@cuhk.edu.hk