23 Aug 2022 07:00pm - 24 Aug 2022 09:00pm
[Life Science Training Programme] Launching and Funding Startups: Seed to Series B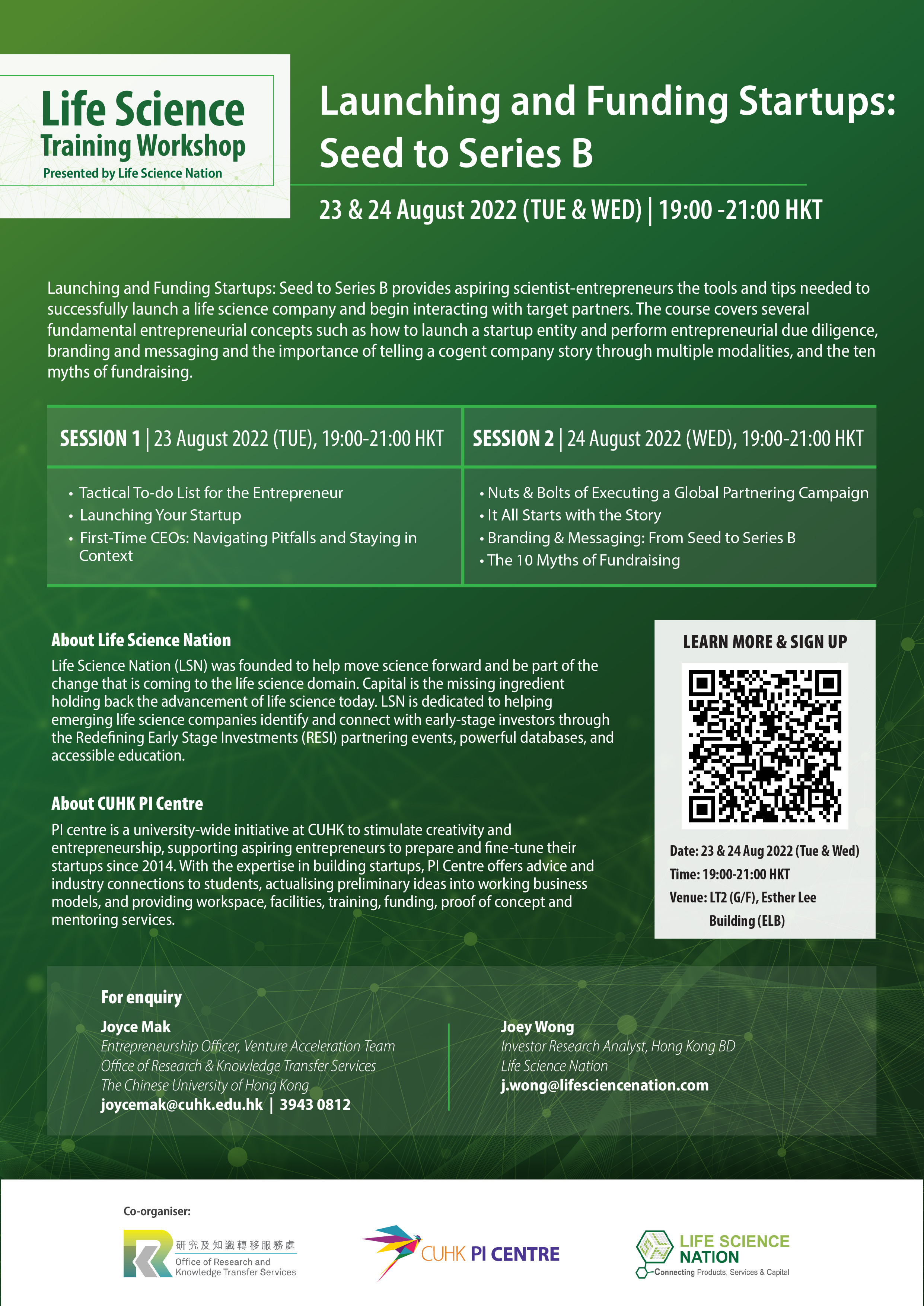 Event Date: 23 Aug 2022 07:00pm - 24 Aug 2022 09:00pm
Type: Workshop
Organizer: Office of Research and Knowledge Transfer Services
Coordinator: Pre-Incubation Centre (Pi Centre)
About Life Science Nation:
Life Science Nation (LSN) was founded to help move science forward and be part of the change that is coming to the life science domain. Capital is the missing ingredient holding back the advancement of life science today. LSN is dedicated to helping emerging life science companies identify and connect with early-stage investors through the Redefining Early Stage Investments (RESI) partnering events, powerful databases, and accessible education.
About the 2 Days Training Workshop:
SESSION 1 | 23 August 2022 (TUE), 19:00-21:00 HKT
Tactical To-do List for the Entrepreneur
Launching Your Startup
First-Time CEOs: Navigating Pitfalls and Staying in Context
SESSION 2 | 24 August 2022 (WED), 19:00-21:00 HKT
Nuts & Bolts of Executing a Global Partnering Campaign
It All Starts with the Story
Branding & Messaging: From Seed to Series B
The 10 Myths of Fundraising
Content:
Launching and Funding Startups: Seed to Series B provides aspiring scientist-entrepreneurs the tools and tips needed to successfully launch a life science company and begin interacting with target partners. The course covers several fundamental entrepreneurial concepts such as how to launch a startup entity and perform entrepreneurial due diligence, branding and messaging and the importance of telling a cogent company story through multiple modalities, and the ten myths of fundraising.
For Enquiry:
Ms Joyce Mak, Entrepreneurship Officer, Venture Acceleration Team, ORKTS
joycemak@cuhk.edu.hk | 3943 0812
Ms Joey Wong, Investor Research Analyst, Hong Kong BD, Life Science Nation
j.wong@lifesciencenation.com