01 Nov 2021 06:00pm - 08:00pm
【Hospital Authority】Online Health Data Exploration Workshop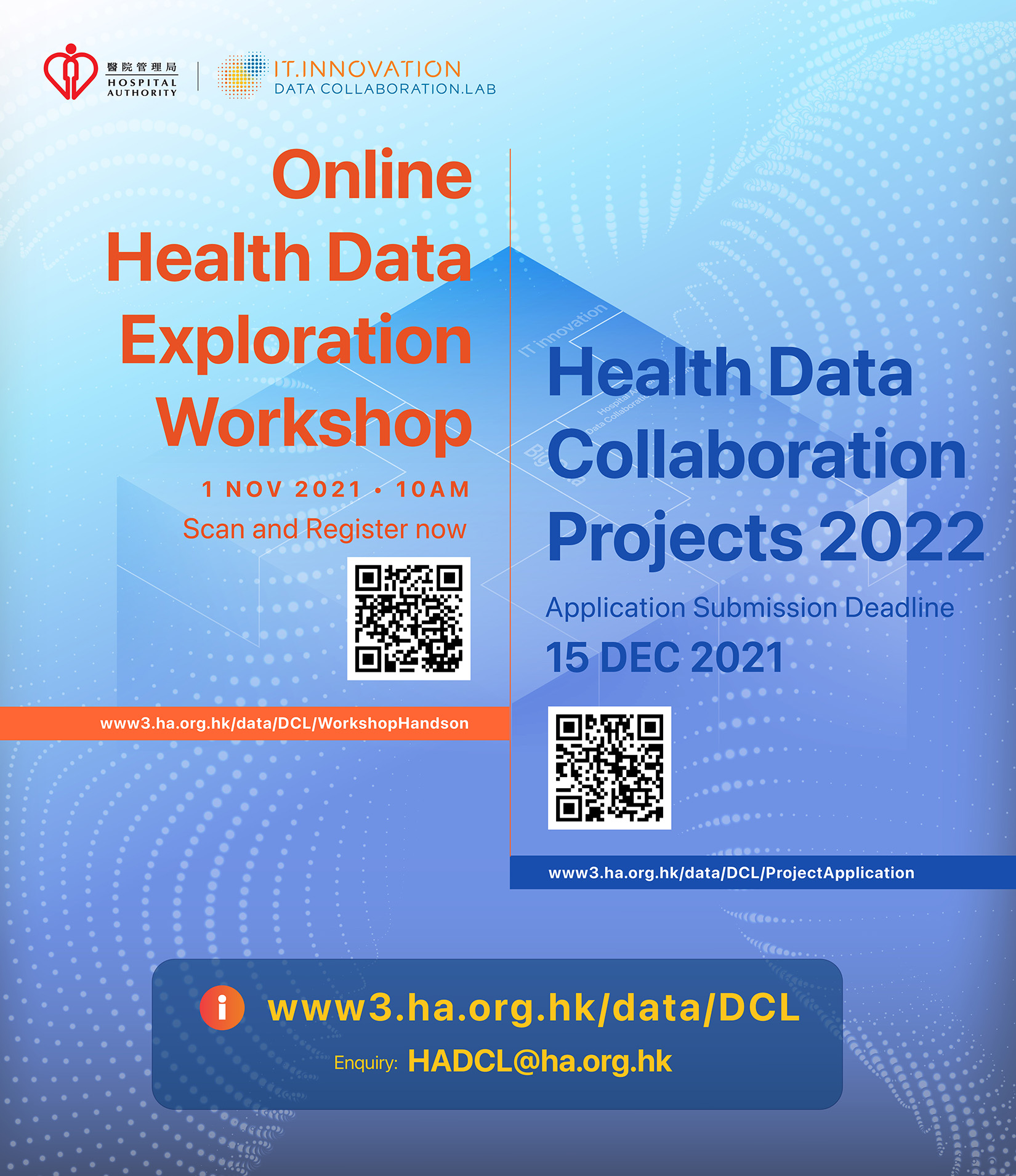 Event Date: 01 Nov 2021 06:00pm - 08:00pm
Type: Workshop
Organizer: Others -
Coordinator:
Hospital Authority Data Collaboration Lab (HADCL) is inviting enrollment and application for the following TWO events :
Online Health Data Exploration Workshop Enrolment (1 Nov 2021, Mon)
Health Data Exploration Workshop will be conducted via Webinar to introduce services, data and platform of HADCL.
Key Contents:
Walkthrough of HADCL Data, Platform and Tool
Introduction to health data, clinical terms search engine demo and hands-on practice
Demo and Guided Hands-on Practice
Exercise on Data Analytics & Machine Learning for Healthcare Scenarios
Date: 1 Nov 2021
Time: 10am to 12pm
Format: Zoom Webinar
Interested researchers may enroll online at https://www3.ha.org.hk/data/DCL/WorkshopHandson.
Application for Health Data Collaboration Projects 2022 (Deadline: 15 Dec 2021, Wed)
HADCL provides a secured platform for researchers to conduct health data collaboration projects. With de-identified health data of more than 25 years, AI and Machine Learning Platform, and data domain experts, HADCL will be able to support researchers for their interested big data / AI research topics.
Requirement:
The Principal Investigator (PI) must be from one of the UGC-funded Universities. Support from PI's University and necessary ethics approval for the project proposal are required.
Interested researchers may submit their applications online via https://www3.ha.org.hk/data/DCL/ProjectApplication.
Access to Self-service Data Platform
Researchers can also apply for Self-service Data Platform to explore research topics using the sample data. Please click here for details.
Moreover, in response to researchers' demand for a more convenient access, remote access to the platform is established at CUHK. Please contact our office at orkts@cuhk.edu.hk for details of the on-campus platform.