15 May 2023 05:30pm - 07:00pm
"InnoX Summer Camp 2023" - Future of Travel and Mobility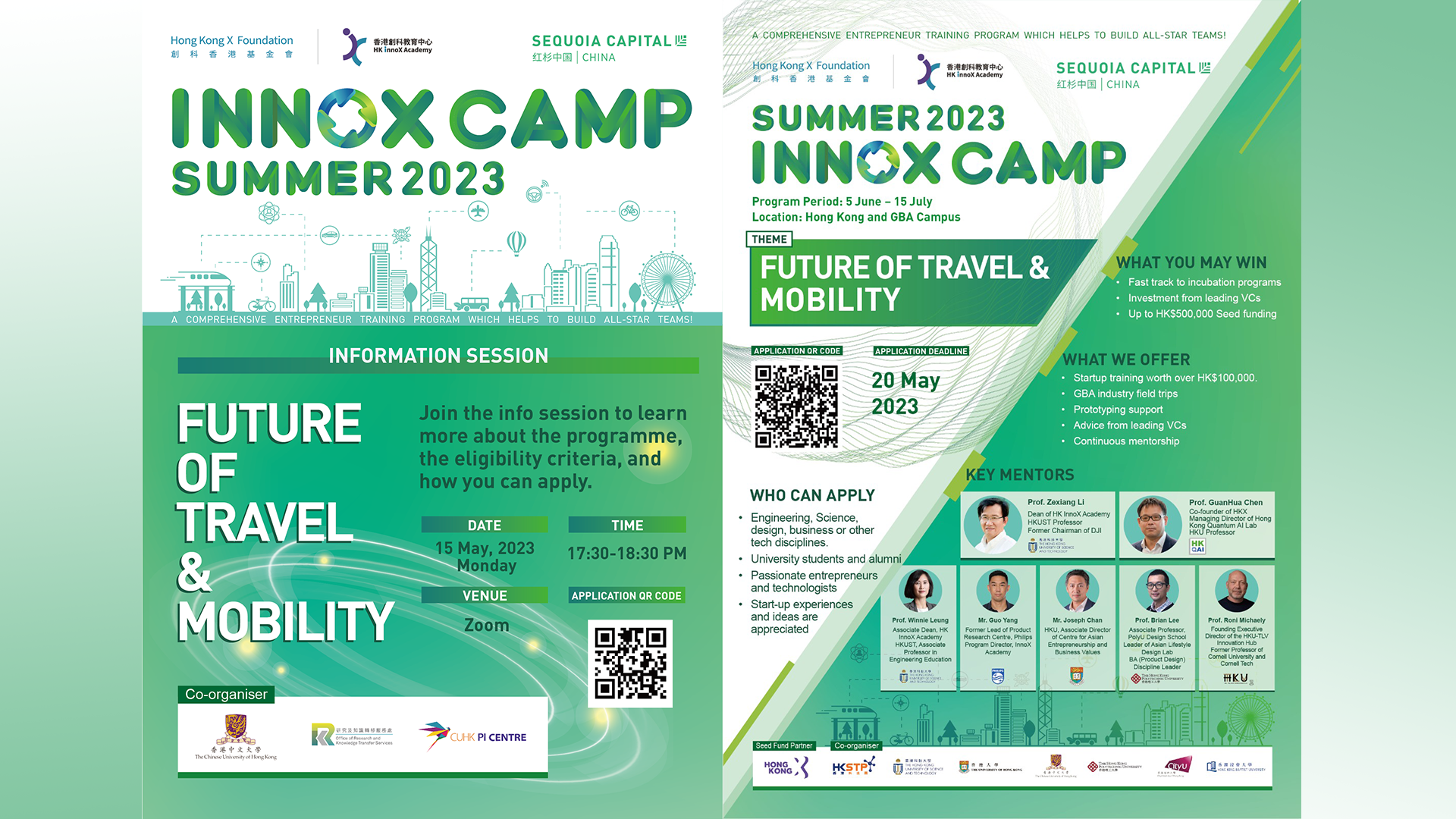 Event Date: 15 May 2023 05:30pm - 07:00pm
Type: Seminar
Organizer:
Coordinator:
InnoX Summer Camp is a project-based, hard-tech focused, hands-on entrepreneurship boot camp hosted by InnoX Academy. InnoX Academy is simultaneously starting the promotion and recruitment for InnoX Summer Camp 2023 in all partnered universities.
CUHK PI Centre (ORKTS) is co-organizing "InnoX Summer Camp 2023" with Hong Kong X Foundation & Hong Kong InnoX Academy. The theme of this Summer Camp will be "Future of Travel and Mobility." InnoX Academy invites students to delve into the immense potential of this rapidly evolving sector, driven by cutting-edge technologies, sustainability, and the ever-changing needs of modern travelers. As we move towards a more connected and dynamic world, there has never been a better time to revolutionize how we travel and navigate our surroundings.
"InnoX Summer Camp 2023" [ Theme: Future of Travel and Mobility]
Date: 5 Jun 2023 - 15 Jul 2023
Venue: HKSTP & Partner University Campuses
Application Deadline: 20 May 2023
To learn more about the programme details, you are recommended to join the Info Session to be held on May 2, 2023 (Tue) 5:30pm - 6:30pm at UGA, InnoPort, CUHK. In this session, Apollo (OAO Limited), awarded team at last InnoX training boot camp, is invited to share the project details and personal experience during the boot camp.
[Info Session] InnoX Summer Camp 2023
Date: May 2, 2023 (Tue)
Time: 5:30pm-6:30pm
Venue : UGA, InnoPort, CUHK
Register NOW : http://hk.mikecrm.com/XOxj083
Enquiry:picentre@cuhk.edu.hk