23 Mar 2023 11:00am - 12:00pm
CUHK(SZ) Seminar: Distinguished MED Research Seminar - Gut Microbiome in Dealing with Colorectal Cancer: Basic and Translational Research (Zoom) (23 March 2023)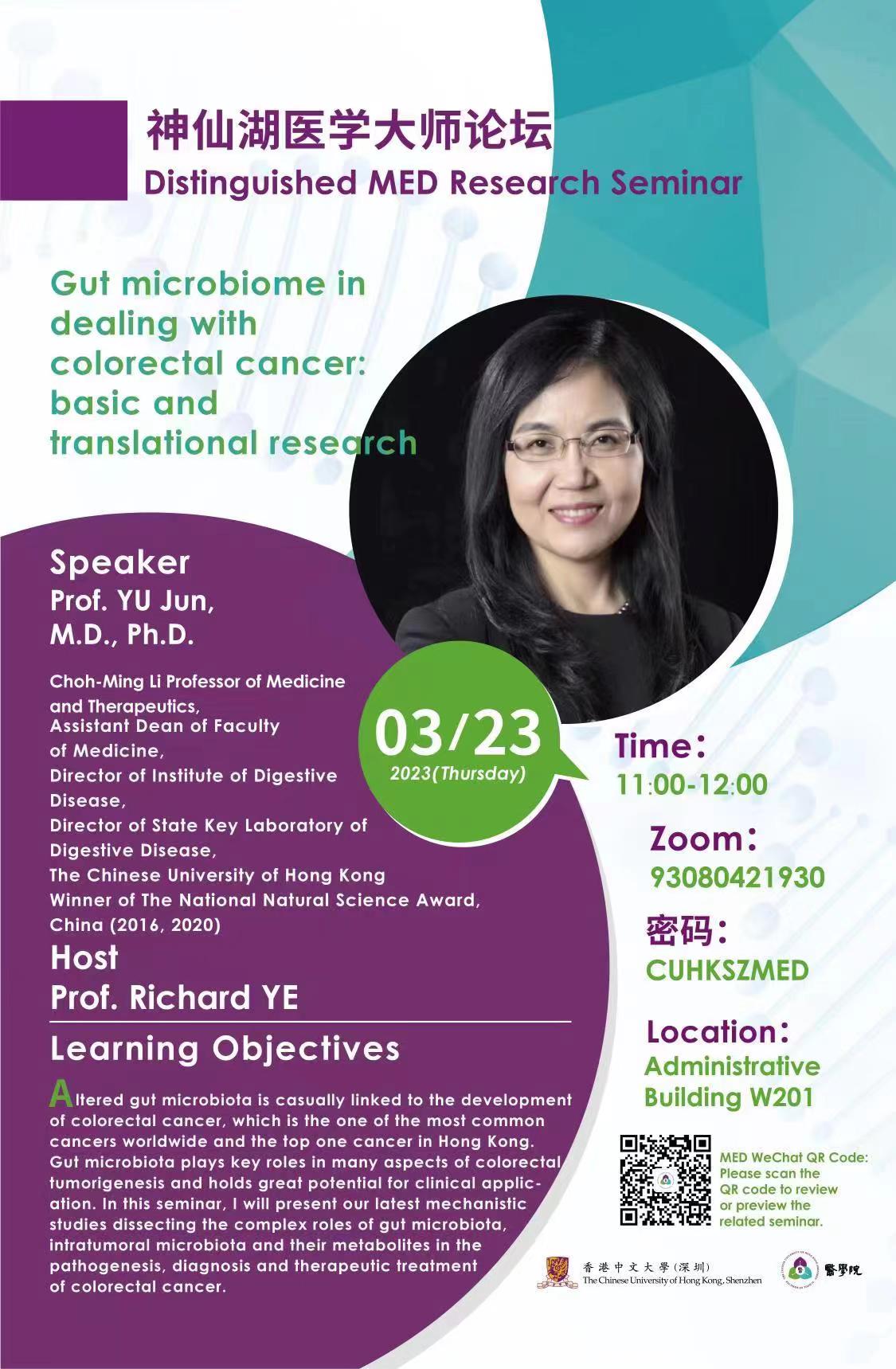 Event Date: 23 Mar 2023 11:00am - 12:00pm
Type: Seminar
Organizer: Others - CUHK(SZ)
Coordinator: InnoPort
Abstract:
Altered gut microbiota is casually linked to the development of colorectal cancer, which is one of the most common cancers worldwide and the top one cancer in Hong Kong. Gut microbiota plays key roles in many aspects of colorectal tumorigenesis and holds great potential for clinical application. In this seminar, Prof. YU will present her latest mechanistic studies dissecting the complex roles of gut microbiota, intratumoral microbiota and their metabolites in the pathogenesis, diagnosis and therapeutic treatment of colorectal cancer.
Do mark your calendar and dial in then if you are interested.
Date: March 23, 2023 (Thursday)
Time: 11:00 am to 12:00 pm
Mode: Zoom (ID: 930 8042 1930 | Passcode: CUHKSZMED)
How to join?
Just dial in with the above zoom ID and Passcode 5 minutes before the start.
Host:
Prof. Richard Ye
The Chinese University of Hong Kong, Shenzhen
Speaker:
Prof. Jun YU, M.D., Ph.D.
Choh-Ming Li Professor of Medicine and Therapeutics