31 Jan 2023 03:16pm - 03:17pm
【Entrepreneurship Series 1】Important Lessons for Meeting Investors and Raising Venture Capital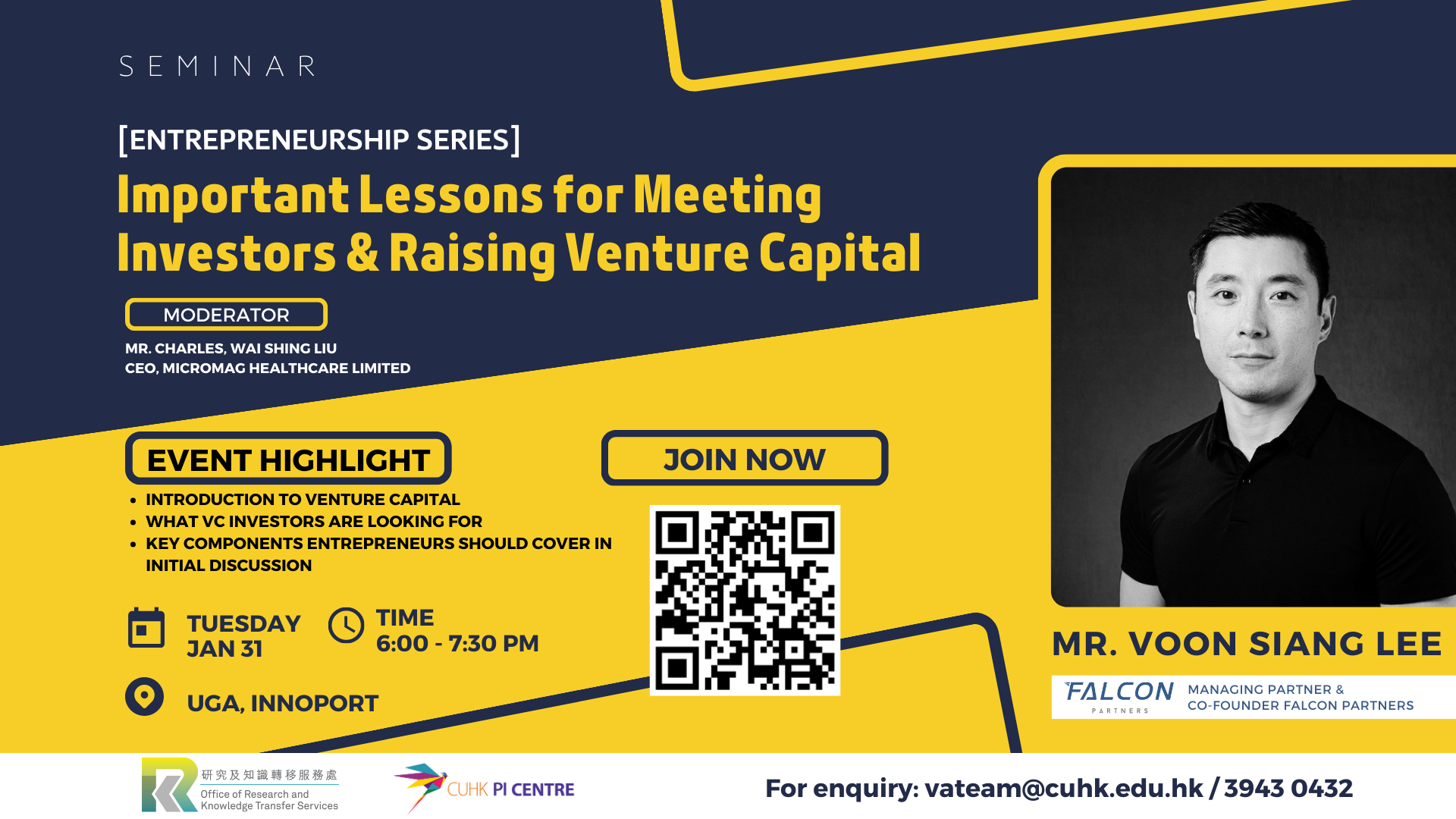 Event Date: 31 Jan 2023 03:16pm - 03:17pm
Type: Seminar
Organizer:
Coordinator:
Speaker
Voon Siang Lee is Managing Partner and Co-Founder of Falcon Partners, a private equity and venture capital investment firm in Hong Kong. He invests in early stage companies in the consumer, life sciences and healthcare spaces. He is a Board Advisor and seed investor in Oryza Pharmaceuticals and Orenda Health, global life sciences companies with operations in Hong Kong, China and the U.S.
Voon has over 20 years of experience including managing public equity investments at The Capital Group (AUM US$2.7trn), private equity investments at Apax Partners (AUM US$50bn), executing M&A and corporate finance transactions at Credit Suisse, and strategic advisory at McKinsey & Company. Voon has built and managed global teams in Hong Kong, Shenzhen, Shanghai, London, New York and Melbourne.
Voon is passionate about entrepreneurship, innovation and personal impact. He founded the Asia Technology Entrepreneurial Conference (ATEC) in 2019 with the objective of contributing to the ongoing development of the startup ecosystem in the Greater Bay Area; he is an ongoing member of the ATEC Steering Committee. Voon is also an officer of the Harvard Business School Association of Hong Kong (HBSAHK), where he founded the annual HBSAHK Startup Competition and also sits on the HBSAHK NGO Scholarship Committee.
Voon received his B.Eng in Electrical Engineering and B.Comm in Economics from the University of Melbourne. He holds an MBA from Harvard Business School.
Moderator
Charles Wai Shing LIU, CEO of MicroMag Healthcare Limited
MicroMag Healthcare Limited is a start-up from the Advanced Nanomaterials & Microrobotics Laboratory (ANML) in CUHK. In 21st century, infectious diseases are still burdening our society and cause more than 20,000 lives lost daily. Early detection is essential for timely treatment and prevention. Existing diagnostic methods face limitations in long reaction time, high costs, or require specialists to conduct labour-intensive procedure. MicroMag is committed to preventing infectious outbreak and saving lives by providing clinicians and patients with instant, easy, accurate and automated diagnosis through innovative microrobotic technology.
Content Highlights
Mr. Voon Siang LEE is going to give an introduction about the venture capital, the key components to be covered in the first meeting with investors based on Voon's investment experience in the early stage companies ranging from consumer, life sciences and healthcare spaces. Voon will discuss how to bond with investors by sharing the information in right timing.