27 Jul 2022 10:30am - 12:00pm
ORKTS Webinar Series | IP for Entrepreneurs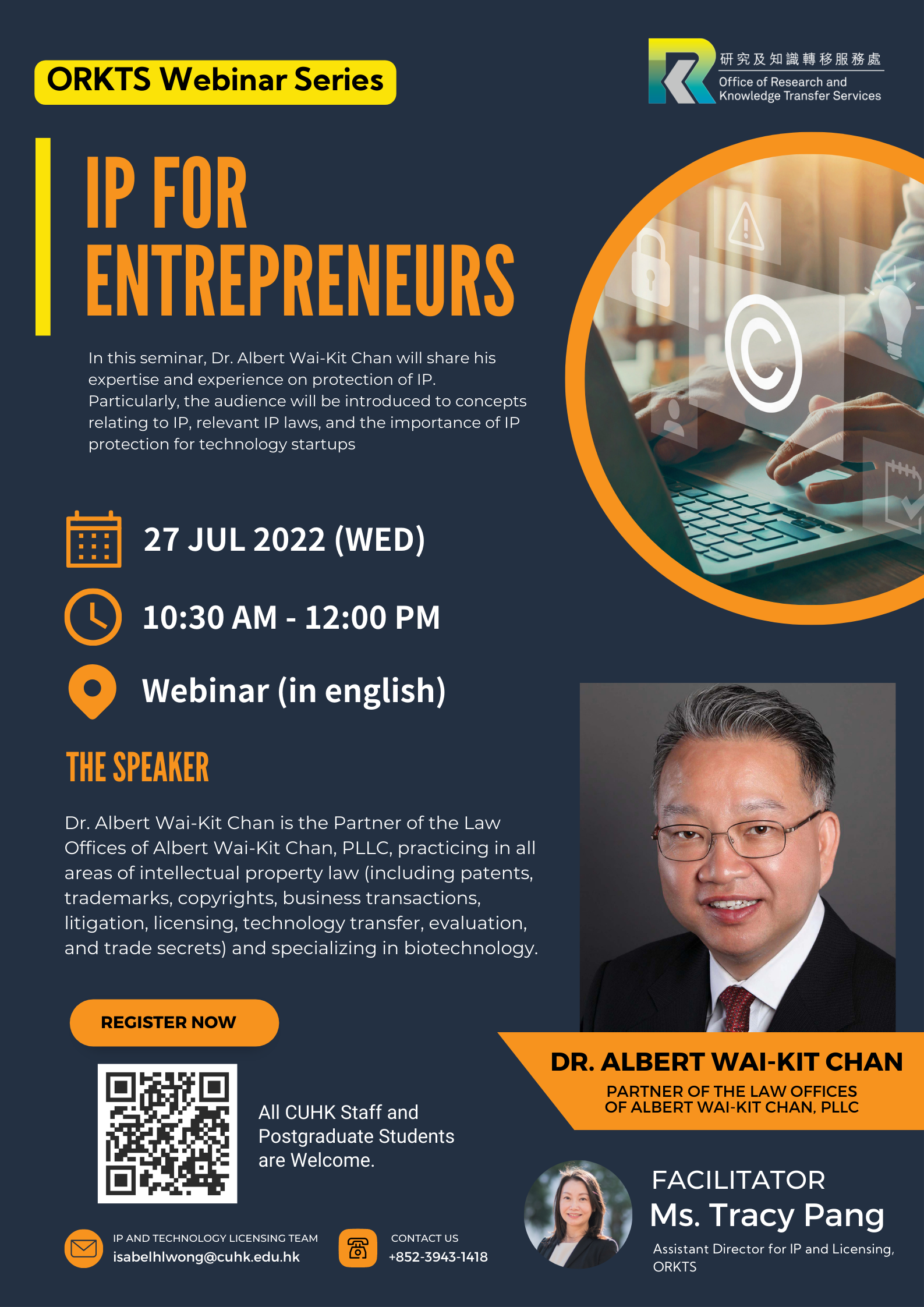 Event Date: 27 Jul 2022 10:30am - 12:00pm
Type: Seminar
Organizer: Office of Research and Knowledge Transfer Services
Coordinator: IP and Technology Licensing Team
Date: July 27, 2022 (Wednesday)
Time: 10:30 am – 12:00 noon
Mode: Zoom
Medium: English
Registration: https://cloud.itsc.cuhk.edu.hk/webform/view.php?id=13652187 (Zoom link will be sent upon confirmation)
Facilitator:
Ms. Tracy Pang
Assistant Director for IP and Licensing
Speaker:
Dr. Albert Wai-Kit CHAN, PH.D., J.D.
Partner of the Law Offices of Albert Wai-Kit Chan, PLLC
Dr. Albert Wai-Kit Chan is the Partner of the Law Offices of Albert Wai-Kit Chan, PLLC, practicing in all areas of intellectual property law (including patents, trademarks, copyrights, business transactions, litigation, licensing, technology transfer, evaluation, and trade secrets) and specializing in biotechnology. He works extensively with clients ranging from individual inventors to well-established prestigious research institutes in the U.S., China, and abroad. Dr. Chan is founder and director of the United States-China Intellectual Property Institute, Inc., a non-profit organization. Dr. Chan is a registered foreign lawyer in Hong Kong, where he also heads Albert Wai-Kit Chan Intellectual Property Limited.
Topic: IP for Entrepreneurs
The number of tech startups is increasing in Hong Kong over the past several years, as young people are embracing technology and entrepreneurship with unprecedented enthusiasm. Besides proving concepts and building values, startups have a crucial task that they can never neglect in their growth stage, which is the protection of their most important and valuable intangible assets, i.e., their intellectual property (IP).
It turns out that protection of IP can pose a serious challenge for startups, which may often be due to startup teams' lack of knowledge in IP laws and protection strategies. Many startups do not realize that duly protected IP shall play an important part in their business success, and inadequate protection often leads to loss of market shares and profits, disputes among collaborators, and, in some occasions, prolonged proceedings of litigation.
In this seminar, Dr. Albert Wai-Kit Chan will share his expertise and experience on protection of IP. Particularly, the audience will be introduced to concepts relating to IP, relevant IP laws, and the importance of IP protection for technology startups.