08 Jul 2022 05:00pm - 07:00pm
Partnering With JLABS To Go To The Market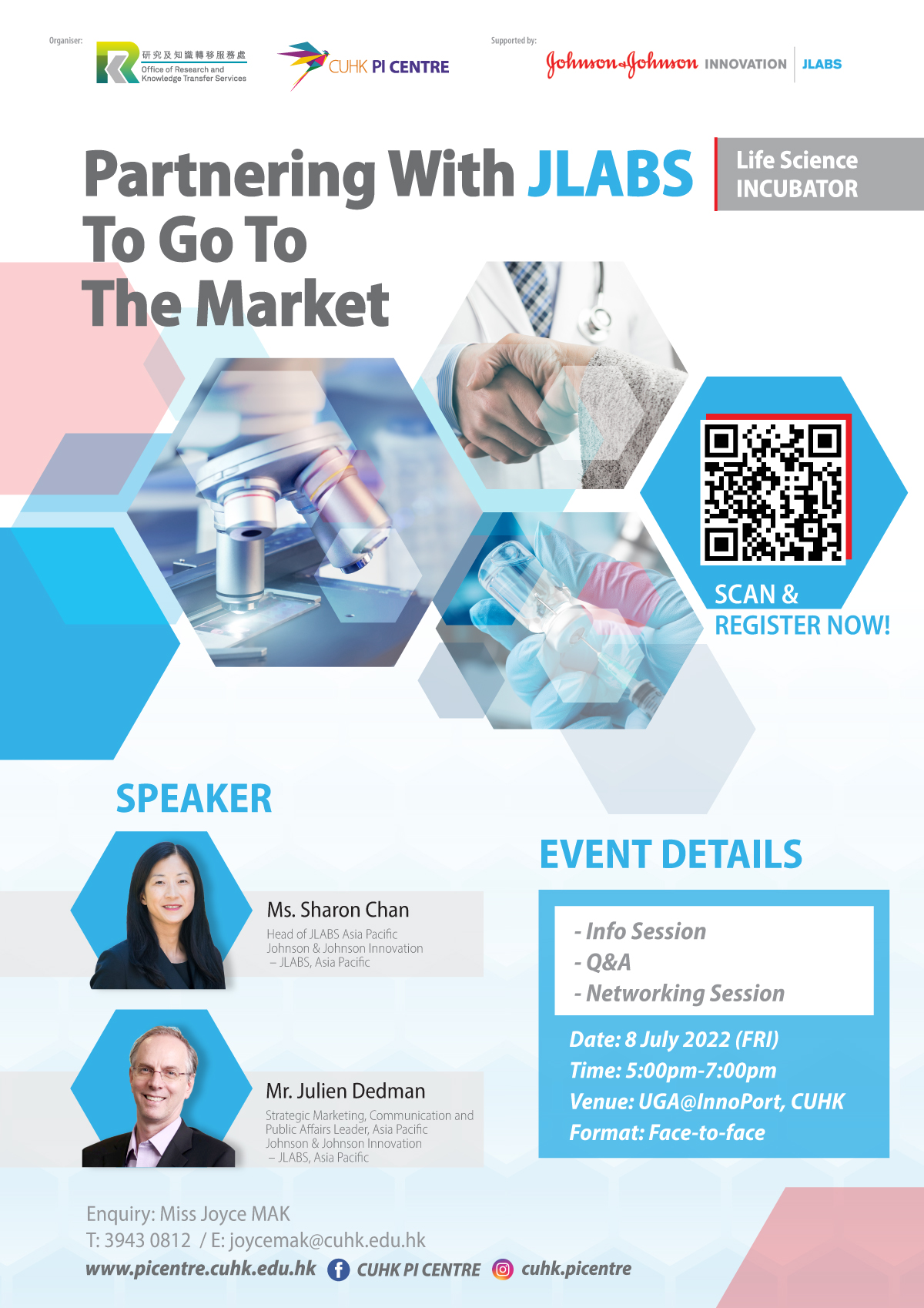 Event Date: 08 Jul 2022 05:00pm - 07:00pm
Type: Seminar
Organizer: Office of Research and Knowledge Transfer Services
Coordinator: Pre-Incubation Centre (Pi Centre)
Wonder how JLABS could help your company's business and product development? This seminar may help! Don't miss the chance of partnering with life science incubator – JLABS. Come and join us at this upcoming seminar!
About the Speakers
Ms. Sharon Chan
Sharon is a passionate and respected global health leader with extensive experience in business and product development across pharmaceuticals, medical devices, vaccines and technology platforms. As Head of JLABS @ Shanghai, Sharon is responsible for setting the strategic direction and overseeing all operational activities for JLABS @ Shanghai, the first Johnson & Johnson Innovation – JLABS in Asia Pacific and the largest in its global network. Her responsibilities include managing the portfolio of JLABS in the region and collaborating with its internal and external business partners across multiple sectors to implement educational programming and drive high-quality company sourcing from innovation hotspots across Asia Pacific. In 2020, Sharon was recognized by Forbes China as one of the 50 Top Women in Tech.
Mr. Julien Dedman
As Strategic Marketing, Communication and Public Affairs Leader for Johnson & Johnson Innovation – JLABS, Asia Pacific, Julien is responsible for developing, leading, and executing a comprehensive, integrated Marketing, Communication and Public Affairs strategy for Johnson & Johnson Innovation -- JLABS in the region. He will drive awareness of the organization's value proposition through initiatives such as digital marketing, programing, and stakeholder relations and partner with the Johnson & Johnson Innovation – JLABS Global Communication Leader to develop and lead an engagement strategy for the region, with the goal of building a world-class portfolio of resident companies that adds value to Johnson & Johnson.
During his almost nine years with Johnson & Johnson, Julien has served as a member of Global, Asia Pacific and China Leadership Teams, including J&J's Extended Leadership Team for Global Communication and Public Affairs. His prior roles with the Enterprise have included leading Communication for Innovation and R&D at Johnson & Johnson and Therapeutic Area communication for Immunology, Oncology, CVM, and Infectious Vaccines for Janssen in Asia Pacific and as Head of Communication for Xian Janssen in China based in Beijing.
About JLABS
Providing a model where scientists can focus on the science
Johnson & Johnson Innovation – JLABS (JLABS) is a global network of open innovation ecosystems, enabling and empowering innovators across a broad healthcare spectrum including pharmaceutical, medical device, consumer and health tech sectors to create and accelerate the delivery of life-saving, life-enhancing health and wellness solutions to patients around the world. JLABS achieves this by providing the optimal environment for emerging companies to catalyze growth and optimize their research and development by opening them to vital industry connections, delivering entrepreneurial programs and providing a capital-efficient, flexible platform where they can transform the scientific discoveries of today into the breakthrough healthcare solutions of tomorrow.
You may visit the official website of Janssen for more information: https://jlabs.jnjinnovation.com/