13 Jul 2022 08:30pm - 09:30pm
Public Engagement with Impact - Best Practices from the Hong Kong Jockey Club Charities Trust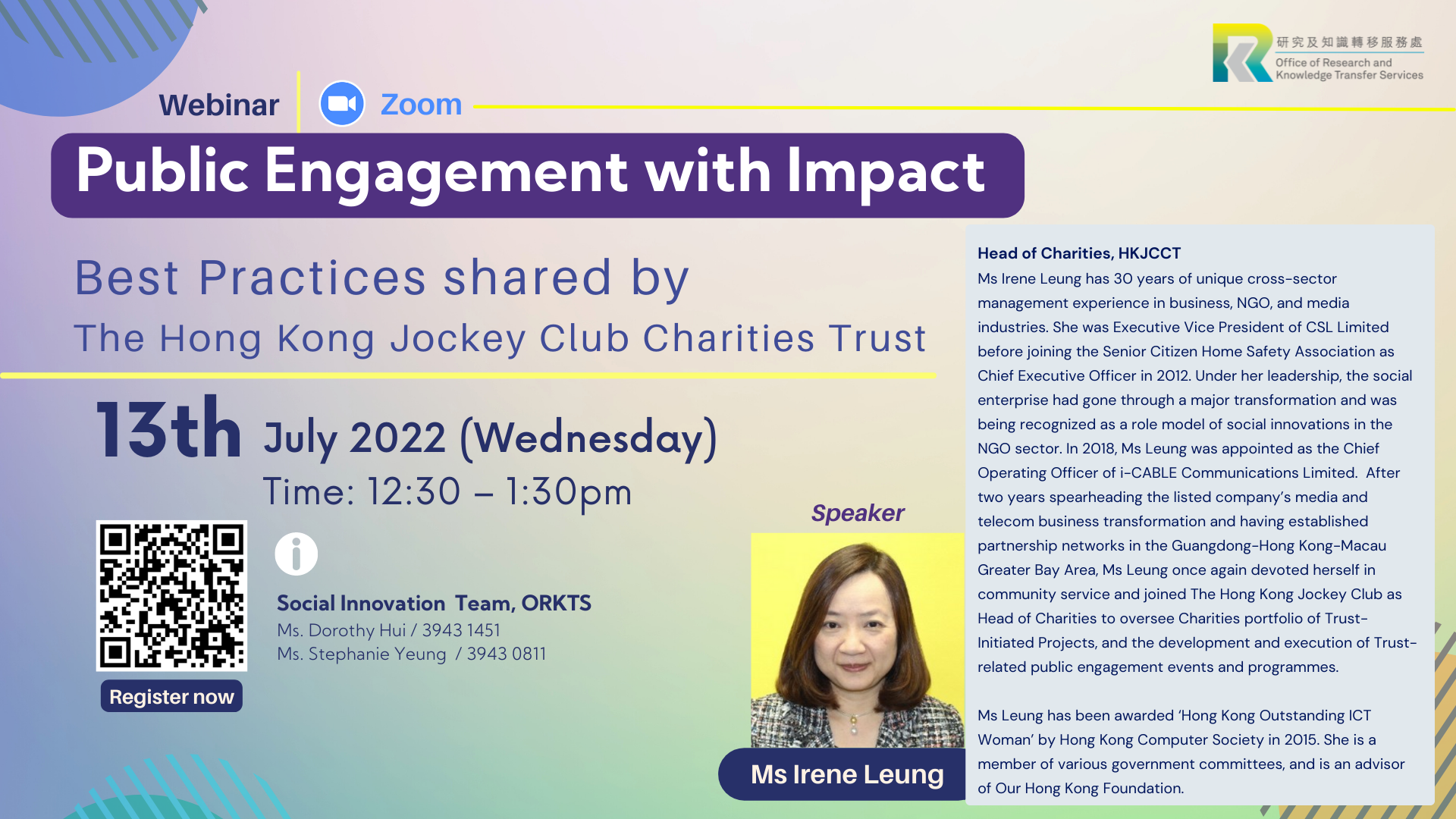 Event Date: 13 Jul 2022 08:30pm - 09:30pm
Type: Seminar
Organizer: Office of Research and Knowledge Transfer Services
Coordinator: Social Innovation Team
Public Engagement with Impact -
Best Practices from the Hong Kong Jockey Club Charities Trust
How to let the public know the impact of your work? We invited the Head of Charity of The Hong Kong Jockey Club Charities Trust to share with us the best practices of collaborating with government, NGOs and communities to create different impacts, the Trust's efforts and experience in community/public engagement would be a source of inspiration.
Date: 13 July 2022 (Wednesday) 12:30 - 1:30pm
Type: Seminar
Host: Social Innovation team, Office of Research and Knowledge Transfer Services (ORKTS)
Speaker: Ms. Irene LEUNG, Head of Charities, HKJCCT
Bio of the speaker: Ms Irene Leung has 30 years of unique cross-sector management experience in business, NGO, and media industries. She was Executive Vice President of CSL Limited before joining the Senior Citizen Home Safety Association as Chief Executive Officer in 2012. Under her leadership, the social enterprise had gone through a major transformation and was being recognized as a role model of social innovations in the NGO sector. In 2018, Ms Leung was appointed as the Chief Operating Officer of i-CABLE Communications Limited. After two years of spearheading the listed company's media and telecom business transformation and having established partnership networks in the Guangdong-Hong Kong-Macau Greater Bay Area, Ms Leung once again devoted herself in community service and joined The Hong Kong Jockey Club as Head of Charities to oversee Charities portfolio of Trust-Initiated Projects, and the development and execution of Trust-related public engagement events and programmes.
Ms Leung has been awarded 'Hong Kong Outstanding ICT Woman' by Hong Kong Computer Society in 2015. She is a member of various government committees, and is an advisor of Our Hong Kong Foundation.
Format: Zoom
Enquiries: dhui@cuhk.edu.hk/ stephyeung@cuhk.edu.hk