05 May 2022 01:30pm - 02:40pm
CUHK(SZ) Seminar: New Immune Checkpoints for Cancer Therapy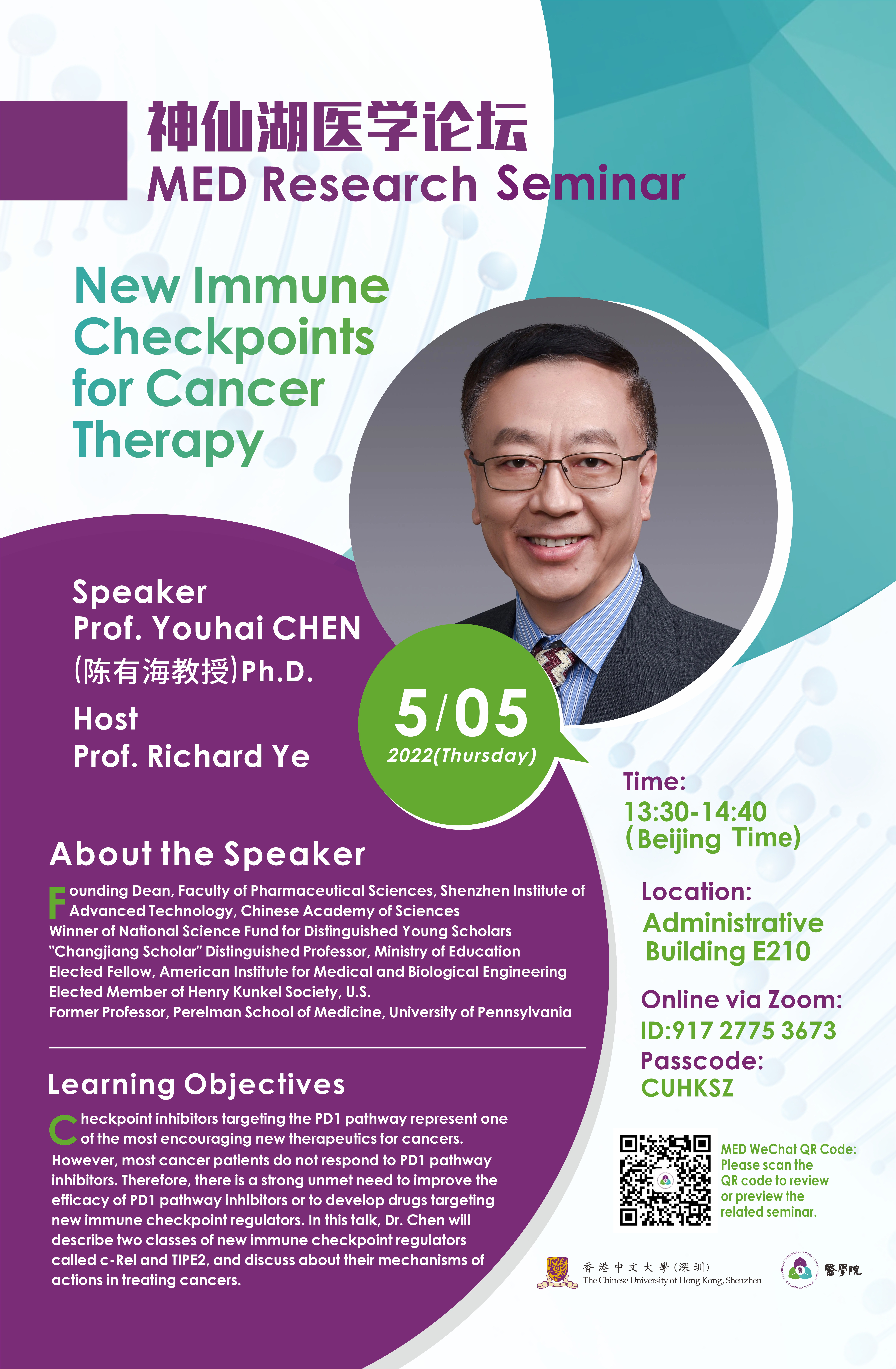 Event Date: 05 May 2022 01:30pm - 02:40pm
Type: Seminar
Organizer: Others - CUHK(SZ)
Coordinator: InnoPort
Organized by CUHK(SZ) School of Medicine. In this online seminar Prof. Youhai CHEN, Ph.D., Dean of Faculty of Pharmaceutical Sciences, Shenzhen Institute of Advanced Technology, Chinese Academy of Sciences , will discuss the big topic of Cancer Therapy. It will be held on 5 May 2022 (Thursday) from 13:30 to 14:40 (Beijing Time) via zoom.
Do mark your calendar and dial in then if you are interested. Pre-registration is NOT required!
Abstract:
Checkpoint inhibitors targeting the PD1 pathway represent one of the most encouraging new therapeutics for cancers. However, most cancer patients do not respond to PD1 pathway inhibitors. Therefore, there is a strong unmet need to improve the efficacy of PD1 pathway inhibitors or to develop drugs targeting new immune checkpoint regulators.
In this talk, Dr. Chen will describe two classes of new immune checkpoint regulators called c-Rel and TIPE2, and discuss about their mechanisms of actions in treating cancers.
Date: May 05, 2022 (Thursday)
Time: 13:30 to 14:40
Mode: Zoom (ID: 917 2775 3673 | Passcode: CUHKSZ)
How to join?
Pre-registration is NOT required. Just dial in with the above zoom ID and Passcode 5 minutes before the start.
Host:
Prof. Richard Ye
Presidential Chair Professor, CUHK (SZ)
Speakers:
Prof. Youhai CHEN, Ph.D.
Dean of Faculty of Pharmaceutical Sciences, Shenzhen Institute of Advanced Technology,
Chinese Academy of Sciences