17 Mar 2022 01:30pm - 02:50pm
CUHK(SZ) Seminar: IL-27—A Novel Therapeutic Target for Obesity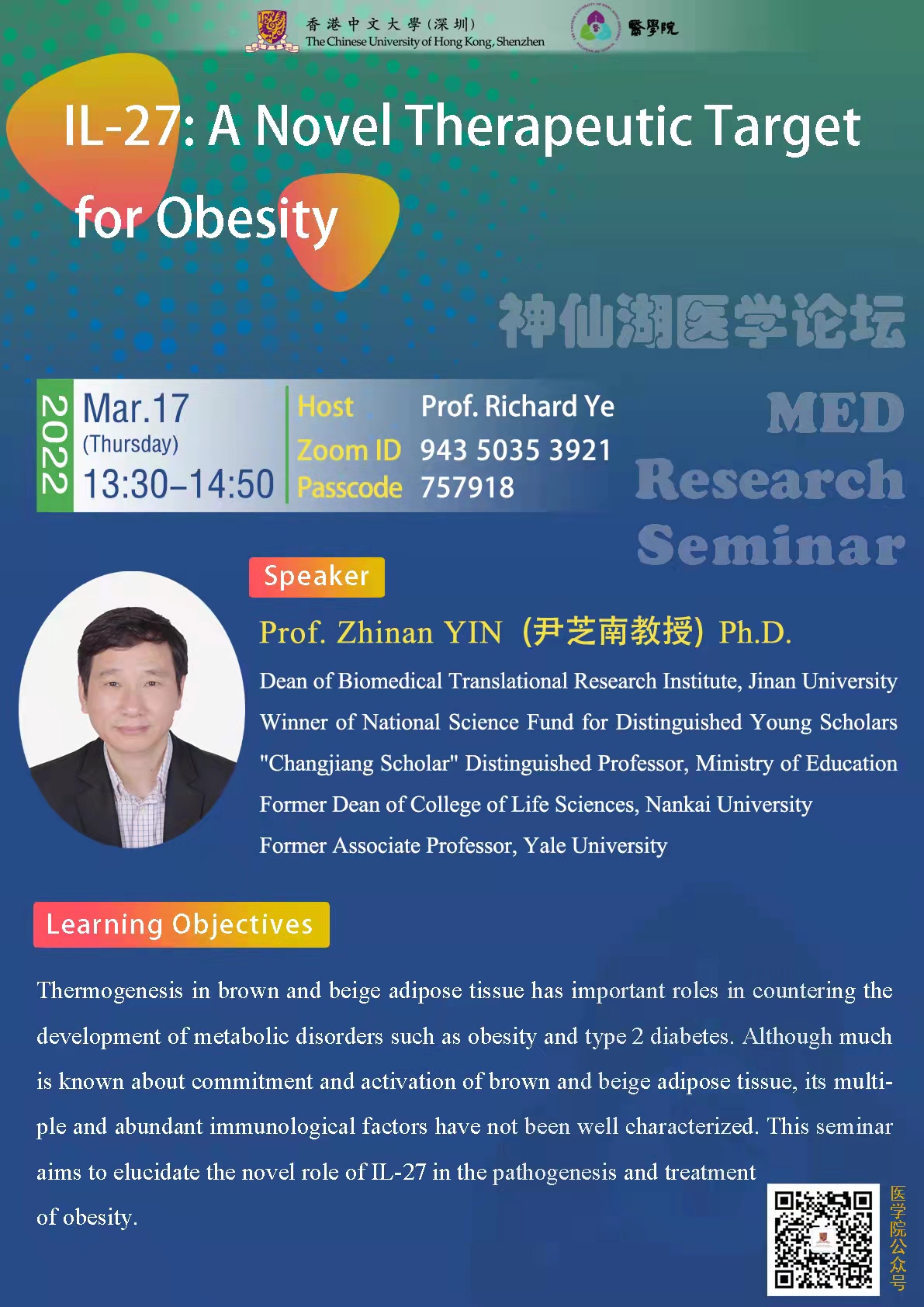 Event Date: 17 Mar 2022 01:30pm - 02:50pm
Type: Seminar
Organizer: Others - CUHK(SZ)
Coordinator: InnoPort
Organized by CUHK(SZ) School of Medicine, in this research seminar Prof. Zhinan YIN, Dean of Biomedical Translational Research Institute of Jinan University, will discuss the topic of Obesity and the novel role of Interleukin 27 (IL-27). It will be held on Mar 17 2022 (Thursday) from 13:30 to 14:50 via zoom. Do mark your calendar and dial in then if you are interested. Pre-registration is NOT required!
Abstract:
Thennogenesis in brown and beige adipose tissue has important roles in countering the development of metabolic disorders such as obesity and type 2 diabetes. Although much is known about the commitment and activation of brown and beige adipose tissue, its multiple and abundant immunological factors have not been well characterized. This seminar aims to elucidate the novel role of IL-27 in the pathogenesis and treatment of obesity.
Date: Mar 17, 2022 (Thursday)
Time: 13:30 to 14:50
Mode: Zoom (ID: 943 5035 3921 | Passcode: 757918)
How to join?
Pre-registration is NOT required. Just dial in with the above zoom ID and Passcode 5 minutes before the start.
Host:
Prof. Richard Ye
Presidential Chair Professor, CUHK (SZ)
Speakers:
Prof. Zhinan YIN
Dean of Biomedical Translational Research Institute of Jinan University