17 Feb 2022 04:00pm - 05:30pm
CUHK and CUHK(SZ) Joint Seminar Series: Drug, Vaccine Testing and Development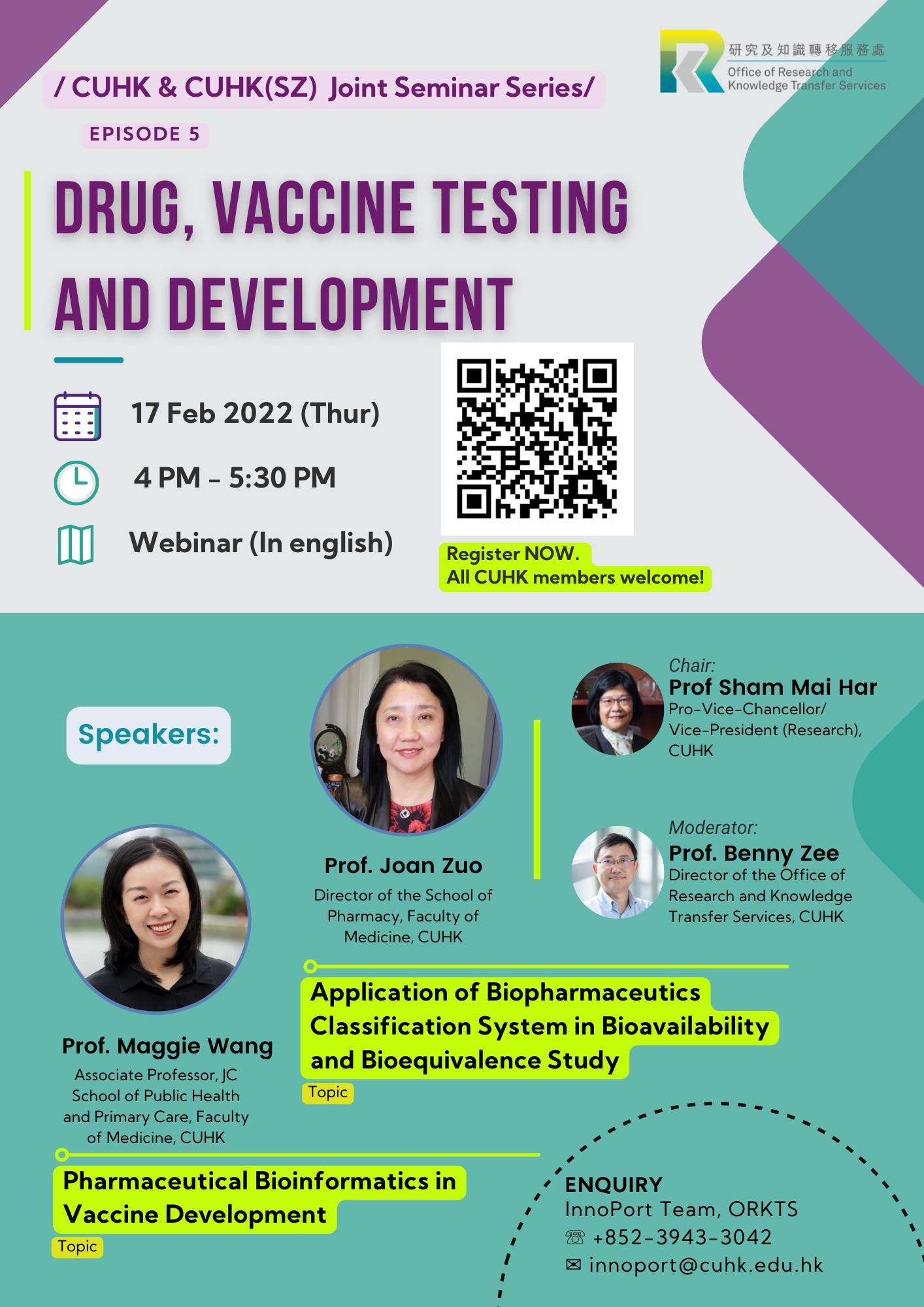 Event Date: 17 Feb 2022 04:00pm - 05:30pm
Type: Seminar
Organizer: Office of Research and Knowledge Transfer Services
Coordinator: InnoPort
Welcome to the first episode of the CUHK and CUHK(SZ) Joint Seminar Series brought to you in the year of the Tiger!
Addressing one of the hot topics during these pandemic years—Drugs, Vaccine Testing and Development, two experienced faculty members from the Faculty of Medicine at the University, Prof. Joan Zuo and Prof. Maggie Wang will join us in a Thursday afternoon and share with us their insights online. All CU members are welcome! Details of their backgrounds and seminar topics please see follows.
Date: Feb 17, 2021 (Thursday)
Time: 4pm -5:30pm
Mode: Zoom
Medium: English
Chair:
Prof. Sham Mai Har
Pro-Vice-Chancellor/Vice-President (Research), CUHK
Moderator:
Prof. Benny Zee
Director of the Office of Research and Knowledge Transfer Services, CUHK
Speakers:
Prof. ZUO Zhong, Joan

Director and Professor, School of Pharmacy, Faculty of Medicine, CUHK

Prof. Zuo holds a B. Sc. and a Ph.D. in Pharmaceutical Sciences and has had over 20 years' experience in the biopharmaceutics and pharmacokinetics fields. Since she joined the School of Pharmacy at CUHK, Prof. Zuo has secured over 23 million continuous supports from various grant agencies in Hong Kong SAR as PI to support her series investigations on biopharmaceutics and pharmacokinetics of both western drug molecule and herbal bioactive components, leading to over 300 original research and conference papers and two patents. Internationally, Prof. Zuo is the Fellow of American Association of Pharmaceutical Scientists and the regional editor of European Journal of Pharmaceutical Sciences. In Hong Kong, Prof. Zuo is serving in the Pharmacy & Poison's Board and Proprietary Traditional Chinese Medicine Registration Committee at the government of Hong Kong SAR.
Topic: Application of Biopharmaceutics Classification System in Bioavailability and Bioequivalence study
Synopsis:
With the support from the Hong Kong Innovation and Technology Commission (ITF), the first bioavailability and bioequivalence testing center in Hong Kong was established in 2000 by the School of Pharmacy and the Department of Medicine and Therapeutics, Faculty of Medicine, CUHK with more than 80 products tested so far.
As early as 2006, the bioequivalence test at Prince of Wales Hospital (current Phase I Clinical Trial Center) was approved by the NMPA (former CFDA) at that time. In addition to providing services to the industry, the research team led by Prof. Zuo has also carried out a series of studies on the evaluation system based on the Biopharmaceutics Classification System (BCS) of drugs/drug candidate.
Prof. Zuo's speech will not only introduce the bioequivalence service at the CUHK, but also focus on explaining the bioequivalence test and the bioequivalence of the drug itself, dosage forms and excipients from the perspective of BCS application in the development of new medicines.
---
Prof. WANG Haitian, Maggie

Associate Professor, JC School of Public Health and Primary Care, Faculty of Medicine, CUHK
Prof. Maggie Haitian Wang received her bachelor's degree (Hon) in Physics in 2005, and PhD degree in ISOM (Statistics) in 2011, from the Hong Kong University of Science and Technology (HKUST). Prof. Wang has published over 130 research articles and was the principal investigator of RGC, NSFC and HMRF grants. Prof. Wang's research interest is developing new statistical and bioinformatic methods towards better vaccine design and human genome interpretation. Prof. Wang's research area includes genetic association testing, interaction effects, disease prediction, mutation prediction, antigen optimization, and vaccine effectiveness estimation.
Topic: Pharmaceutical Bioinformatics in Vaccine Development
Synopsis:
In this talk, Prof. Wang will introduce the hot topics of bioinformatics methods in vaccine development, the opportunities and field applications. She will also introduce their own contributions in the field including mutation prediction and vaccine effectiveness estimation by sequence analysis.