19 Nov 2021 06:30pm - 08:00pm
Money and Fame in GBA Seminar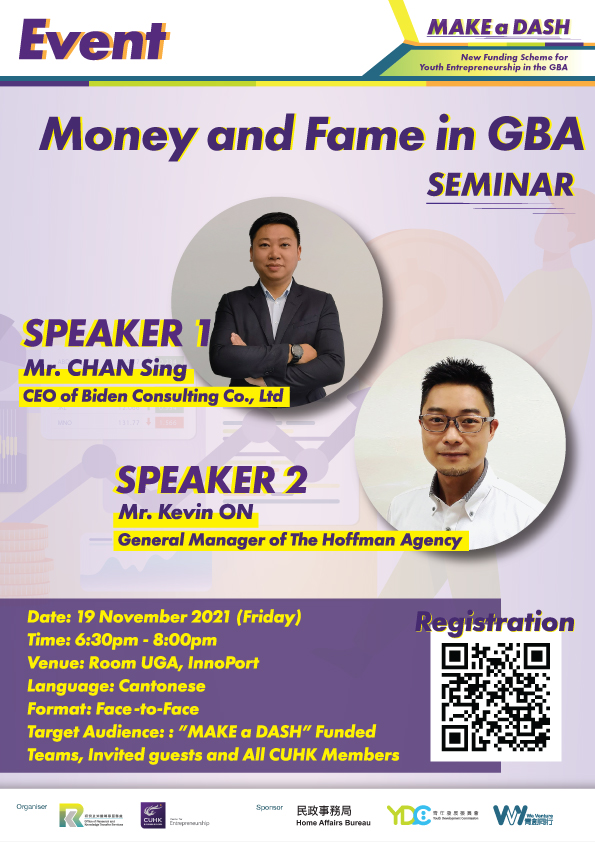 Event Date: 19 Nov 2021 06:30pm - 08:00pm
Type: Seminar
Organizer: Office of Research and Knowledge Transfer Services
Coordinator:
As a Hong Kong startup which have just stepped in GBA cities, what can I do to get the first pot of gold to develop the business and boost my brand awareness? What kinds of funding and sponsorship opportunities I can look for? How do I build a strong brand identity for my startup to stand out among competitors in the GBA?
In this seminar, Mr. CHAN Sing, CEO of Biden Consulting Co., Limited and Mr. Kevin ON, General Manager (HK) of The Hoffman Agency will share their tips on fundraising and marketing in the GBA. If you and your friends are interested in discovering new business in the GBA, don't miss out!
Details are as follows:
Date: 19 Nov 2021 (Fri)
Time: 6:30 pm – 8:00 pm
Venue: UGA, InnoPort
Language: Cantonese
Registration Deadline: 18 Nov 2021, 1 pm
Topics:
Fundraising and Sponsorship in GBA
Rules and Regulations in GBA
Why branding and storytelling are crucial for success
Marketing your startup in the GBA
About the Speakers:
Mr. CHAN Sing
Mr Chan started his own business since 2012 and established Biden Consulting Co., Ltd. in Hong Kong and Ekstech (Shenzhen) Co., Ltd in 2015. He assisted Young Professional Alliance (Hong Kong) to set up Innovation co-working space in Qianhai and was nominated to be the member of Qianhai-Shenzhen-Hong Kong Youth Affairs Professional Advisory Committee in 2016. He was awarded as "Top Ten Excellent Youths in Shenzhen in 2017" and was invited by Hong Kong and Macao Affairs Council of Shenzhen to participate the setup of Youth Innovation and Entrepreneurship Base in 2017. He is now the director of Unispace. On October 24, 2018, Mr Chan was cordially received by the General Secretary Xi Jinping.
Mr. Kevin ON
As General Manager for Hong Kong, Mr On supports his clients with strategic counsel, integrated communications planning and issues management. He has direct experience on the technology client side, having led global marketing and communications at DJI, a Chinese drone and camera technology specialist.

Over a six-year period at DJI he played a key role in all major project launches, developed strategic partnerships and worked closely with management, legal and policy teams on issues and crisis management (in the areas of data security, geo-politics, and trade issues).

Mr On's 18-year experience also spans consumer electronics, semiconductors, telecoms, security solution, enterprise platforms and robotics. He has been an advisor to the Hong Kong Trade Development Council's Electronics/Electrical Appliances Industries Committee since 2017. He is also a part-time lecturer at the University of Hong Kong (HKU Space) where he teaches PR and marketing.
Enquiry: Center for Entrepreneurship | Miss Sherman Wong (Email: shermanwong@cuhk.edu.hk | Tel: +852 3943 9566)