29 Oct 2021 11:30am - 12:30pm
Build Research Collaborations & Manage Risks - In the Journey of Google Translate for Sign Languages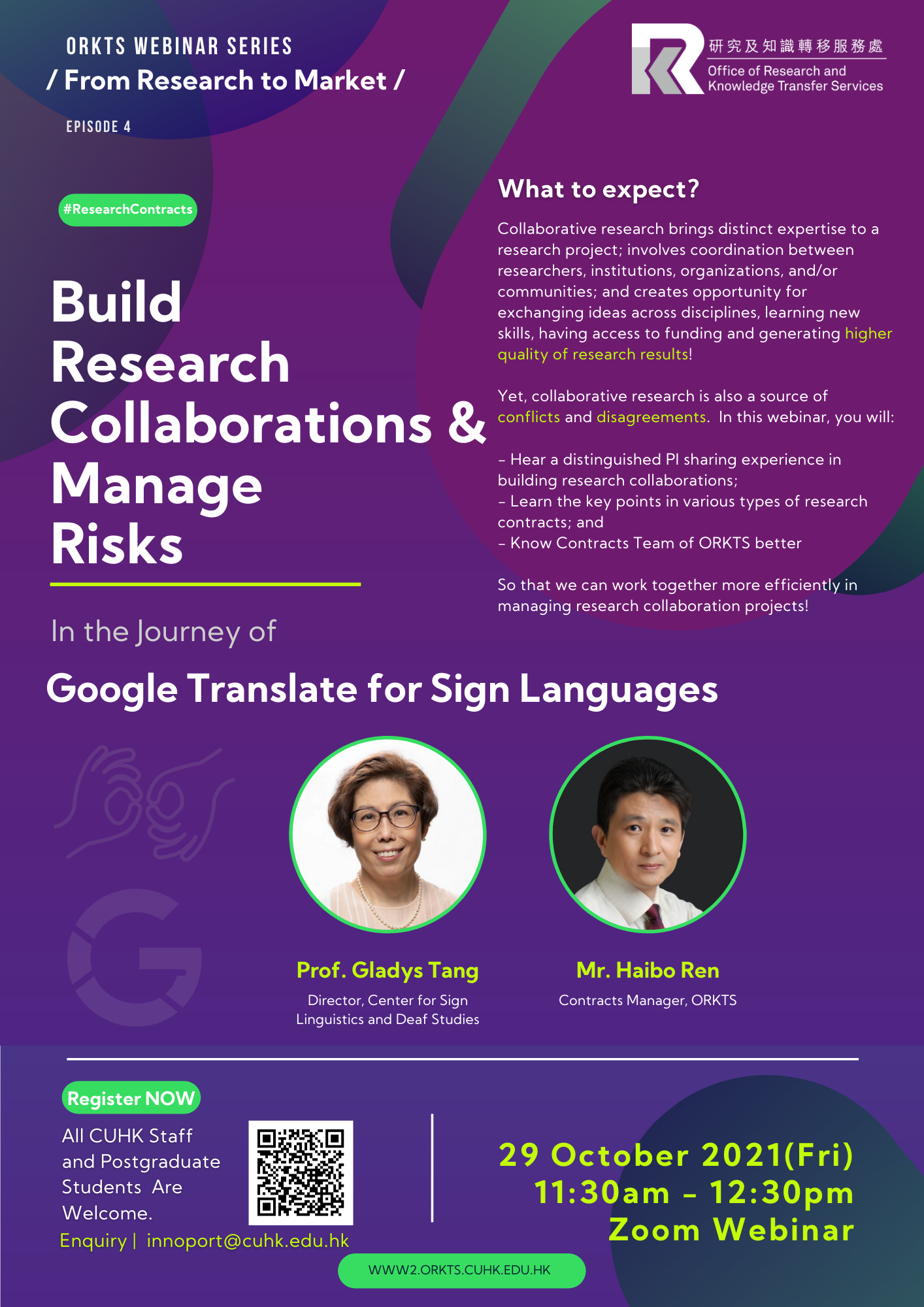 Event Date: 29 Oct 2021 11:30am - 12:30pm
Type:
Organizer: Office of Research and Knowledge Transfer Services
Coordinator:
Collaborative research brings distinct expertise to a research project; involves coordination between researchers, institutions, organizations, and/or communities; and creates opportunities for exchanging ideas across disciplines, learning new skills, having access to funding and generating higher quality of research results!
Yet, collaborative research is also a source of conflicts and disagreements. In this webinar, you will:
Hear a distinguished PI sharing experience in building research collaborations;
Learn the key points in various types of research contracts; and
Know Contracts Team of ORKTS better
So that we can work together more efficiently in managing research collaboration projects!
Speakers:
Prof. Gladys Tang
Director, Center for Sign Linguistics and Deaf Studies
(Click here for her bio)
Mr. Haibo Ren
Contracts Manager, ORKTS
Date: 29 Oct 2021 (Fri)
Time: 11:30am–12:30pm
Mode: Zoom Webinar (Link will be sent to your email upon confirmation)
Medium: English
Registration: https://cloud.itsc.cuhk.edu.hk/webform/view.php?id=13640778
Learn more:
About the Sign Languages research collaboration project with Google and Japanese counterparts:
CUHK, Google and Japanese Counterparts Achieve Technological Breakthrough in Automatic Sign Language Recognition | CUHK Communications and Public Relations Office
Enquiry:
InnoPort Team, ORKTS (Email: innoport@cuhk.edu.hk | Tel: 3943 3042)