30 Sep 2021 11:00am - 12:00pm
How To Maximize The Chances Of Success When Commercializing Your Biomedical Research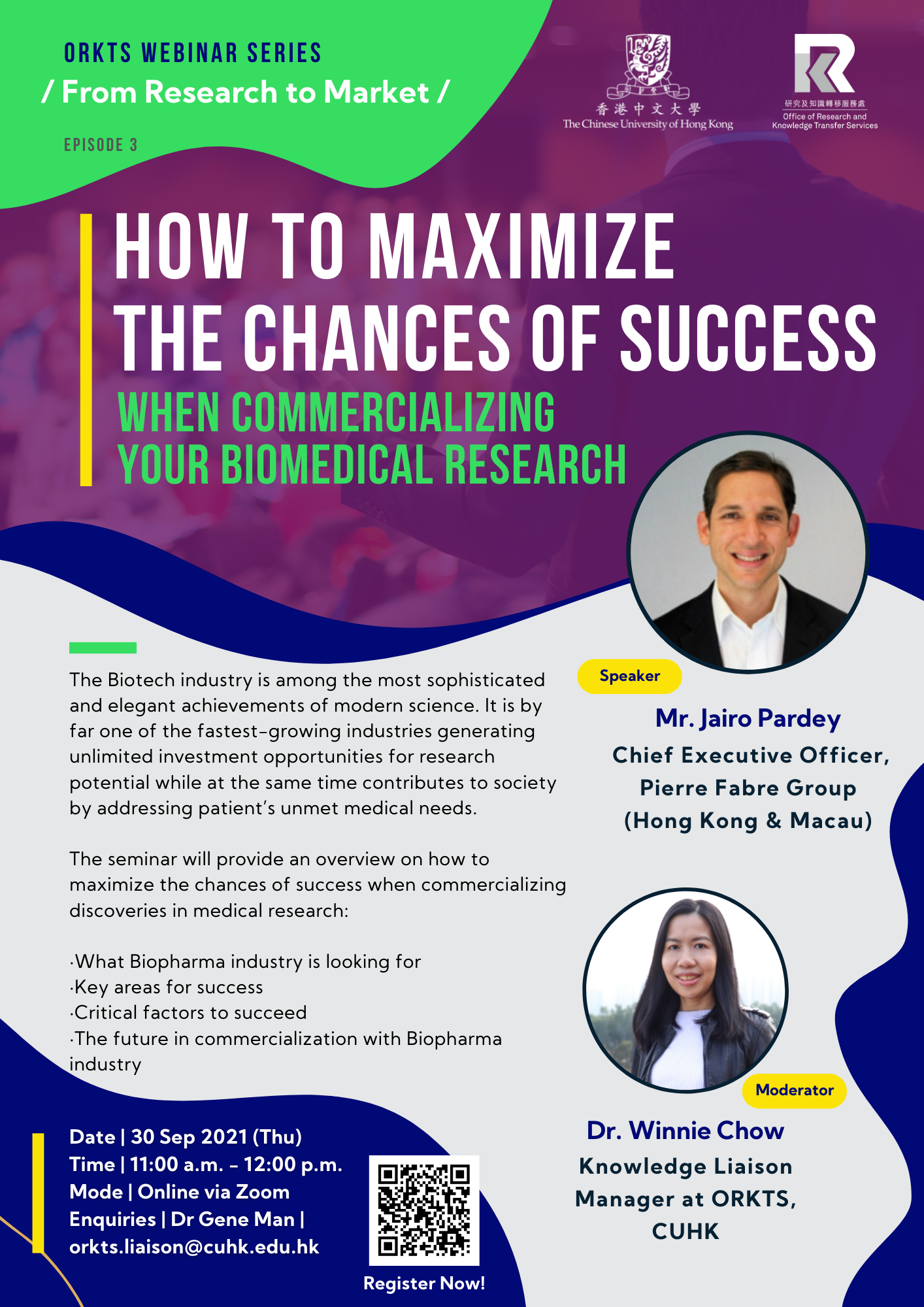 Event Date: 30 Sep 2021 11:00am - 12:00pm
Type: Seminar
Organizer: Office of Research and Knowledge Transfer Services
Coordinator:
The Biotech industry is among the most sophisticated and elegant achievements of modern science. It is by far one of the fastest-growing industries generating unlimited investment opportunities for research potential while at the same time contributes to society by addressing patient's unmet medical needs.
The seminar will provide an overview on how to maximize the chances of success when commercializing discoveries in medical research:
What Biopharma industry is looking for
Key areas for success
Critical factors to succeed
The future in commercialization with Biopharma industry
Speaker:
Mr. Jairo Pardey / Chief Executive Officer, Pierre Fabre Group (Hong Kong & Macau)
Moderator:
Dr. Winnie Chow / Knowledge Liaison Manager at ORKTS, CUHK
Date: 30 Sep 2021 (Thu)
Time: 11:00 a.m. –12:00 p.m.
Mode: Online via Zoom (Link will be sent 3 days prior to the workshop)
Register Now!
About Mr. Jairo Pardey:
More than 20 years of leadership experience in Biopharmaceutical and dermo-cosmetics French & American multinationals ( Sanofi, Abbott, Abbvie & Pierre Fabre) in Asia, Australia/NZ & Latin America, with focus on Oncology, Immunology, Rare Diseases & Dermatology among others therapeutic areas, allowed him to understand market trends and the evolution of the Bio-pharmaceutical industry in the last decades, and support companies in the creation of product & pipeline strategies, business models, regulatory & market access pathways and strategic plans that ensure sustainability and improve medium and long-term profitability of companies
He has been specializing in the Bio-pharmaceutical drug discovery, pipeline creation and commercialization process, bringing new drugs to the markets and echoing the importance of Biotech companies in sustaining innovation to address patients unmet needs as well as the Biopharma pipeline, with a clear understanding of what it takes to be successful in Biotech start-ups as well as what frameworks countries need to develop their Biopharma industry, he has shared his views with governments in policy creation to boost Bio-Pharmaceutical hubs. To keep his innovation spirit, he has held non-executive advisory board position of healthcare start-up companies.
About Pierre Fabre:
Pierre Fabre is the 2nd largest dermo-cosmetics laboratory in the world and the 2nd largest private French pharmaceutical group. Headquartered in the South-West of France, with eight Research & Development Centres, owns subsidiaries and offices in 47 countries, enjoys distribution agreements in over 130 countries, with more than 13,000 employees worldwide. PF Portfolio represents a continuum of activities spanning from prescription drugs and consumer health care products to dermo-cosmetics.