17 Sep 2021 03:00pm - 05:00pm
Pathway to Social Impact Info Session cum Talk
Event Date: 17 Sep 2021 03:00pm - 05:00pm
Type:
Organizer: Office of Research and Knowledge Transfer Services
Coordinator: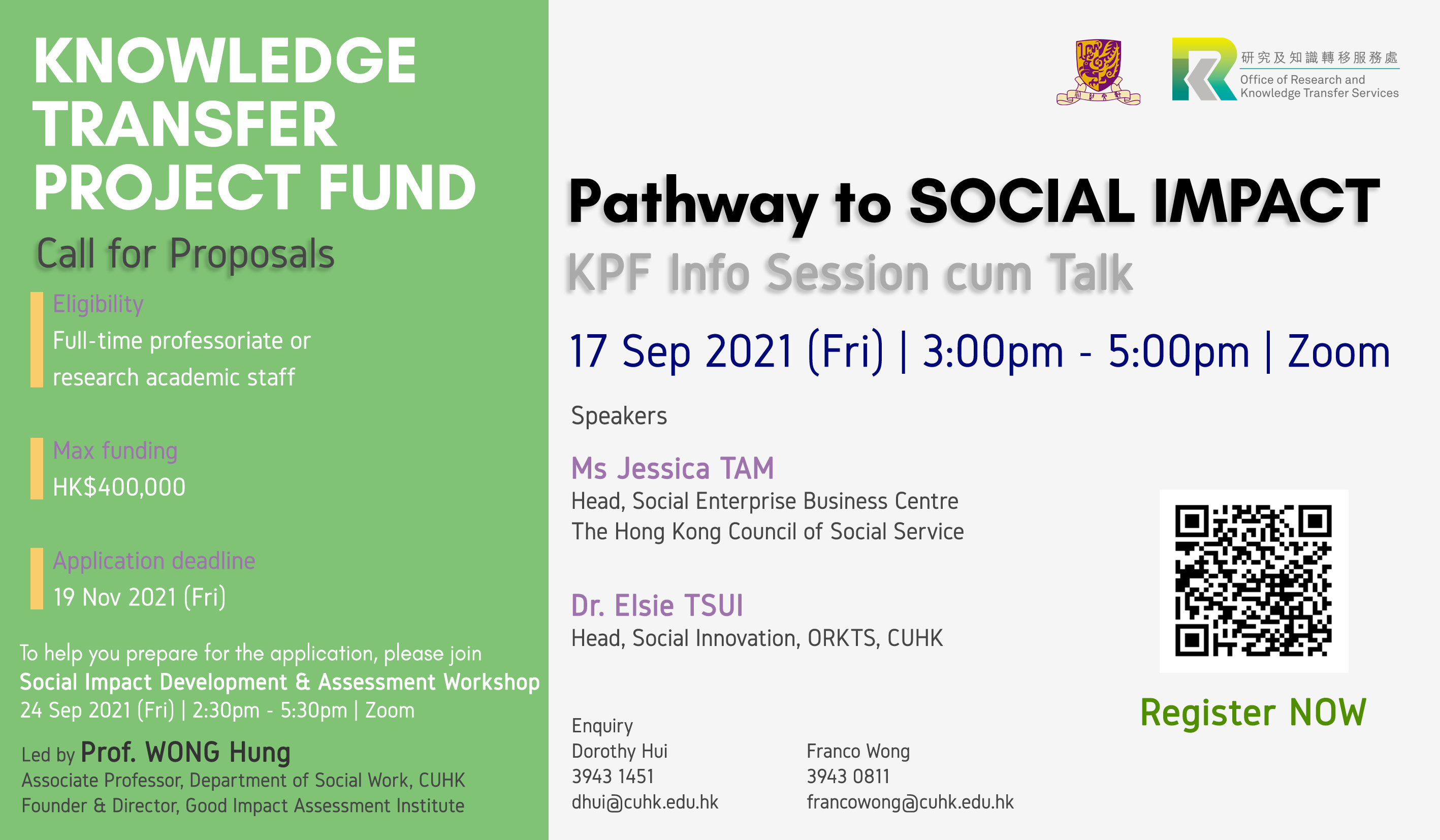 Speakers:
Ms Jessica Tam, Head, Social Enterprise Business Centre,
The Hong Kong Council of Social Service (HKCSS)

Dr Elsie Tsui, Head, Social Innovation,
Office of Research and Knowledge Transfer Services (ORKTS), CUHK
Format: Zoom


Knowledge Transfer Project Fund (KPF) is now open for applications!
KPF scheme is a CUHK funding scheme under the University's initiative in supporting professors to translate their research into community-based social impact projects. With the continuous support from the University and Social Innovation and Entrepreneurship Fund, we have witnessed some successful applied researches that brought about tangible social impact in the local community.
Previously funded projects fell into one or more of the seven main categories listed below. Applicants are welcome to propose new social impact areas based on the nature of their own projects:
Culture and Heritage
Good Health and Well-being
Gender Equality
No Poverty
Quality Education
Reduced Inequality
Sustainable Cities and Communities
To apply for the scheme, Project Leaders and Co-Leaders should be full-time CUHK staff members on professoriate or research academic ranks; other teaching staff would also be considered on a case-by-case basis. Each successful application may receive up to HK$400,000. Find out more details here.
Social Innovation team, Office of Research and Knowledge Transfer Services (ORKTS)