24 Apr 2021 12:00am - 01:00am
New Funding Scheme for Youth Entrepreneurship in the GBA – Briefing Session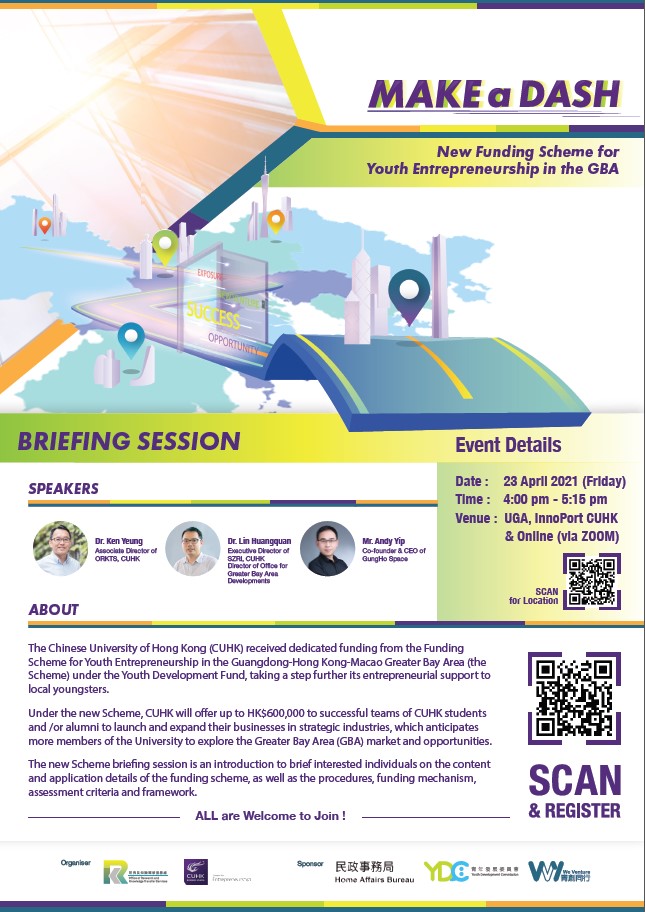 Event Date: 24 Apr 2021 12:00am - 01:00am
Type:
Organizer:
Coordinator:
Venue | 中大 InnoPort UGA
Speaker / Guests of Honour
Dr. Ken Yeung
Associate Director
Office of Research and Knowledge Transfer Services, CUHK
Dr. Lin Huangquan
Executive Director, Shenzhen Research Institute,
CUHK Director, Office for Greater Nay Area Developments, CUHK
Mr. Andy Yip
Co-founder & CEO
GungHo Space
The Chinese University of Hong Kong received dedicated funding from the Funding Scheme for Youth Entrepreneurship in the Guangdong-HK-Macao Greater Bay Area (GBA) under the Youth Development Fund, taking a step further its entrepreneurial support to local youngsters. Under the new Scheme, CUHK will offer up to HK$600K to successful teams of CUHK students and / or alumni to launch and expand their business in strategic industries, which anticipates more members of the University to explore the GBA market and opportunities. To help applicants preparing for the application and business plan, a briefing session will be organized on Friday April 23 (PM).
At the briefing, we will share with participants tips on successful bidding for this scheme. Please join us to obtain the first-hand experience in preparing successful fund applications.
Click here for programme details.
Click here for briefing session details.
Apply NOW