01 May 2023 12:00am - 31 May 2023 12:00am
New Cornerstone Investigator Program (新基石研究員項目)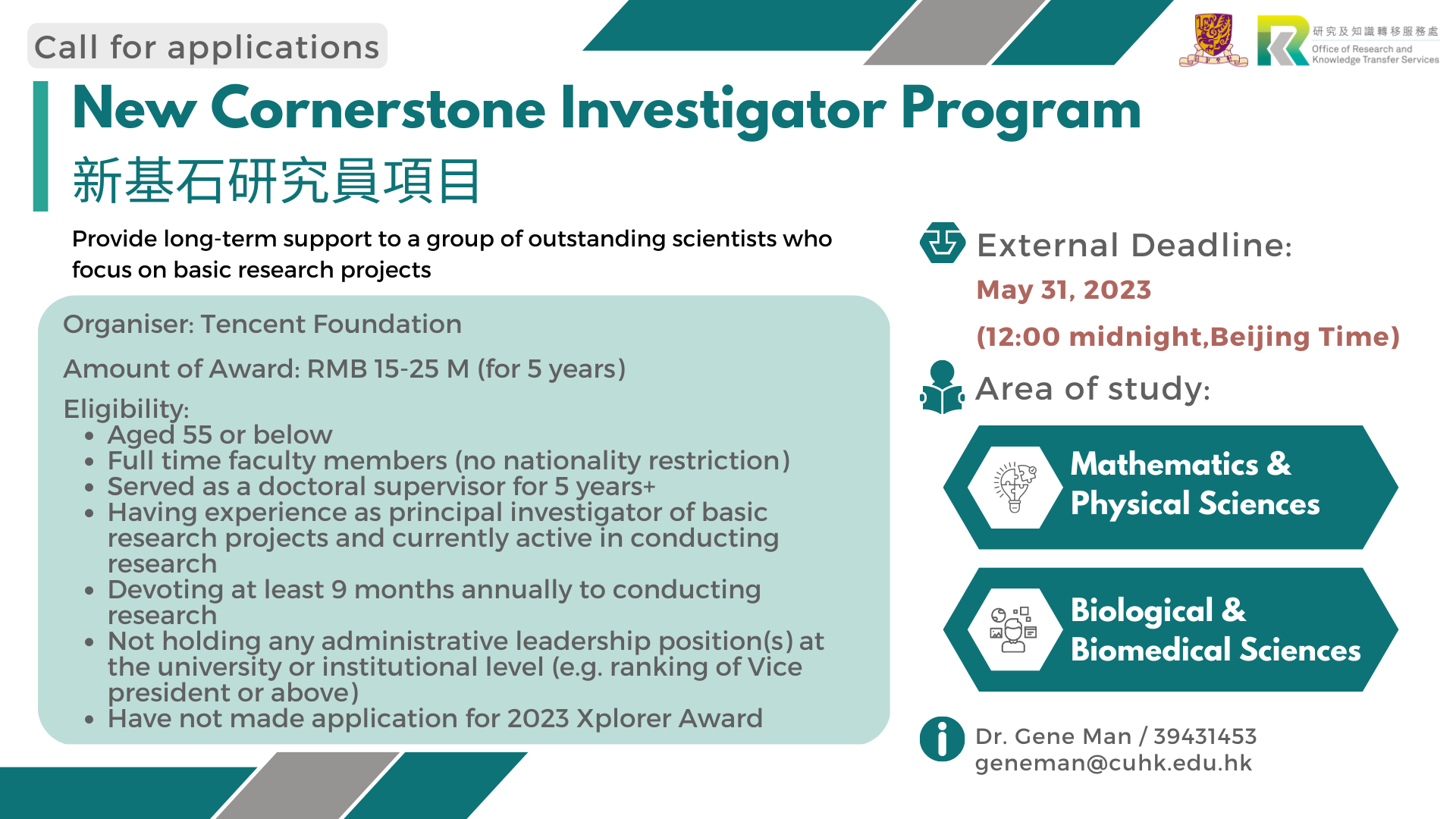 Event Date: 01 May 2023 12:00am - 31 May 2023 12:00am
Type: Competition
Organizer: Others - Tencent
Coordinator: Others - Innovation and Impact Development Team
Name of Price/Award: New Cornerstone Investigator Program (新基石研究員項目)
External Deadline: May 31, 2023 at 12:00 midnight (Beijing Time)
Description of the Call
The New Cornerstone Investigator Program (新基石研究員項目) (hereinafter referred to as 'The Program') is an independent and nonprofit funding initiative guided by scientists and funded by Tencent. It takes a forward-thinking approach to encouraging basic research spearheaded by leading scientists. The Program pledges to provide a select group of exceptional scientists with stable and long-term support for discovery research. The Program supports people, not projects. It supports passionate and creative scientists to take on exploratory and high-risk basic research projects. Selected investigators are expected to tackle high-impact research questions, push boundaries, and make scientific breakthroughs.
The Program funds two major research fields, Mathematics & Physical Sciences and Biological & Biomedical Sciences, and encourages interdisciplinary research. Physical Sciences include Physics, Chemistry, and Theoretical Computer Science research without immediate possibility of industrial application. Biomedical Sciences refer to basic research related to human diseases with the aim of enhancing health and improving prevention, diagnosis and treatment of diseases. Each investigator will be awarded an initial five-year term grant with an annual budget of 5 million RMB (equivalent to 720,000 USD) for experimental research or 3 million RMB (equivalent to 430,000 USD) for theoretical research. At the end of the term, investigators will be eligible for renewal of funding, contingent upon evaluation and approval. The Program selected 58 outstanding investigators in 2022 and anticipates selecting up to 50 investigators in 2023.
This award focuses on "selecting candidates but not projects (選人不選項目)", supporting creative scientists to carry out exploratory and risky basic research, and expecting them to raise important scientific questions, develop academic frontiers, and promote original breakthroughs. The project strictly follows the principle of "scientist-led (科學家主導)".
Strategic Topics-
Two major fields:
Mathematics and Physical Sciences (數學與物質科學)
Biological and Biomedical Sciences (生物與醫學科學)
Funding Amount-
Project funding categories are divided into experimental and theoretical categories.
Experimental: Not exceeding 5 million yuan/person/year
Theoretical: Not exceeding 3 million yuan/person/year
Funding period: 5 years (can be renewed upon evaluation)
Eligibility-
Aged of 55 or below (born on or after January 1, 1968),
Full time faculty members (no nationality restriction),
Served as a doctoral supervisor for more than 5 years,
Having experience as principal investigator of basic research projects and currently active in conducting research
Devoting at least nine months annually to conducting research
Not holding any administrative leadership position(s) at the university or institutional level (e.g., ranking of Vice president or above)
Have not made application for 2023 Xplorer Award.
Application Components-
Future research plan
Scientific contributions, supporting publications
Personal information, education and training, employment history
Professional activities, honors and awards
Active grants, current research team
Criteria of Selection-
Originality
Significance
Breakthrough Potential
The project review includes three stages: preliminary screening, preliminary review, and final review (including final review defense). The list of grants will be announced in the first quarter of 2024.
Details of the application are available here.
For further enquiries, please feel free to contact Dr. Gene Man on 39431453 (geneman@cuhk.edu.hk)