01 Mar 2023 12:00am - 30 Apr 2023 11:59pm
Green Proptech Innovator Challenge 2023 (Deadline: 30 April 2023)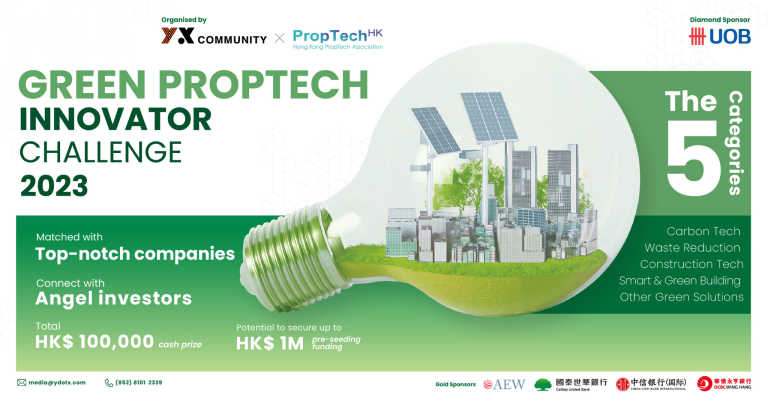 Event Date: 01 Mar 2023 12:00am - 30 Apr 2023 11:59pm
Type: Competition
Organizer: Others - Y.X Community and The Hong Kong PropTech Association (HKPTA)
Coordinator: Knowledge Transfer Events Management Team
The Green PropTech Innovator Challenge is an incubation programme co-organised by Y.X Community and The Hong Kong PropTech Association (HKPTA), targeting talented higher education students and student-founded early-stage startups. This event will partner with top-notch professionals to offer training and all-round mentorship support, and a chance for contestants to test their Proof of Concept (POC) at the premises of world-class property developers and globally-renowned conglomerates.
Proposals are welcomed under one of the below five categories, on the theme of Reducing Carbon Footprint:
• Carbon Tech
• Smart and Green Building
• Construction Tech
• Waste Reduction
• Other Green Solutions
Eligible contestants will have an invaluable opportunity to join Tour of Sino Inno Lab, attend knowledge-sharing seminar, receive financial allowance and a total of HK$100,000 cash prize, and the opportunity to solicit pre-seed funding of up to HK$1M from potential investors.
Interested parties may register via this link. Application period: 1 March 2023 - 30 April 2023
Useful information:
Website: http://yxcommunity.com
Event Poster: click here
For further enquiries please contact the organiser at 8101-2339 or email to media@yxcommunity.com