01 Jul 2022 03:54pm - 12:00am
New Cornerstone Investigator Program (新基石研究員項目)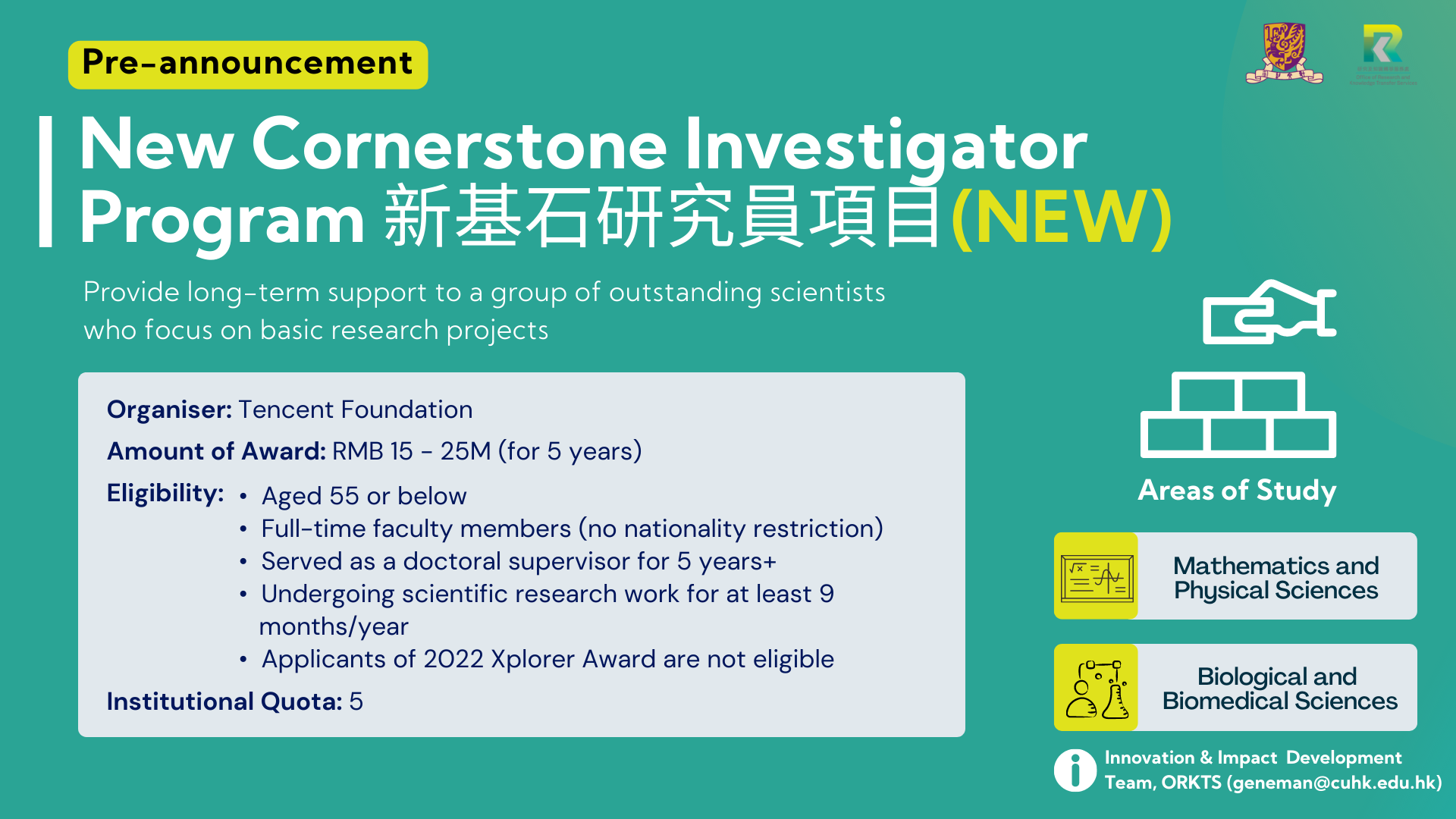 Event Date: 01 Jul 2022 03:54pm - 12:00am
Type: Competition
Organizer: Others - Tencent
Coordinator: Others - Innovation and Impact Development Team
Name of Price/Award: New Cornerstone Investigator Program (新基石研究員項目) (NEW!)
Internal Deadline: TBC
External Deadline: TBC
Description of the Call
The "New Cornerstone Investigator Program (新基石研究員項目)" was launched on 30th April 2022 with the goal of invigorating research into basic sciences from the Tencent Foundation. The non-profit program aims to provide long-term support to a group of outstanding scientists who focus on fundamental research projects that are of profound importance to humankind. The Shenzhen-based company has pledged to provide RMB 10 billion to the program over 10 years while explore the feasibility of a long-term sustainable fund. It is anticipated that the New Cornerstone Investigator Program will award 60 outstanding scientists each year and each of the winners can receive up to RMB 25 million for five years.
The "New Cornerstone Investigator Program (新基石研究員項目)" is a new type of basic research award focusing on originality and innovation, encouraging free exploration and public welfare attributes. Tencent will invest 10 billion yuan in 10 years to support a group of outstanding scientists to devote themselves to basic research in a long-term and stable manner, realize original innovation from 0 to 1, and promote scientific development.
This award focuses on "selecting candidates but not projects (選人不選項目)", supporting creative scientists to carry out exploratory and risky basic research, and expecting them to raise important scientific questions, develop academic frontiers, and promote original breakthroughs. The project strictly follows the principle of "scientist-led (科學家主導)".
Strategic Topics-
Two major fields:
Mathematics and Physical Sciences (數學與物質科學)

Biological and Biomedical Sciences (生物與醫學科學)
Interdisciplinary between these two topics are highly encouraged. Among them, physical sciences can include topics on physics and chemistry with no immediate commercialization. Additionally, theoretical projects using computer science will also be welcomed.
Funding Amount-
Project funding categories are divided into experimental and theoretical categories.
Experimental: Not exceeding 5 million yuan/person/year
Theoretical: Not exceeding 3 million yuan/person/year
Funding period: 5 years (can be renewed upon evaluation)
Eligibility-
1. Aged of 55 or below (born after July 1, 1967),
2. Full time faculty members (no nationality restriction),
3. Served as a doctoral supervisor for more than 5 years,
4. Undergoing scientific basic research for at least 9 months/year, and
5. Have not made application for 2022 Xplorer Award.
The "New Cornerstone Investigator Program" will start the application on July 1, 2022, including 5 institutional nomination and open application. The project review includes three stages: preliminary screening, preliminary review, and final review (including final review defense). The list of grants will be announced in the first quarter of 2023.
Details of the invitation are available here.
Further details on the New Cornerstone Investigator Program will be announced in our call circular which will be sent once the information is received from the funder.