International Exhibition of Inventions of Geneva (Deadline: 24 Jan 2022)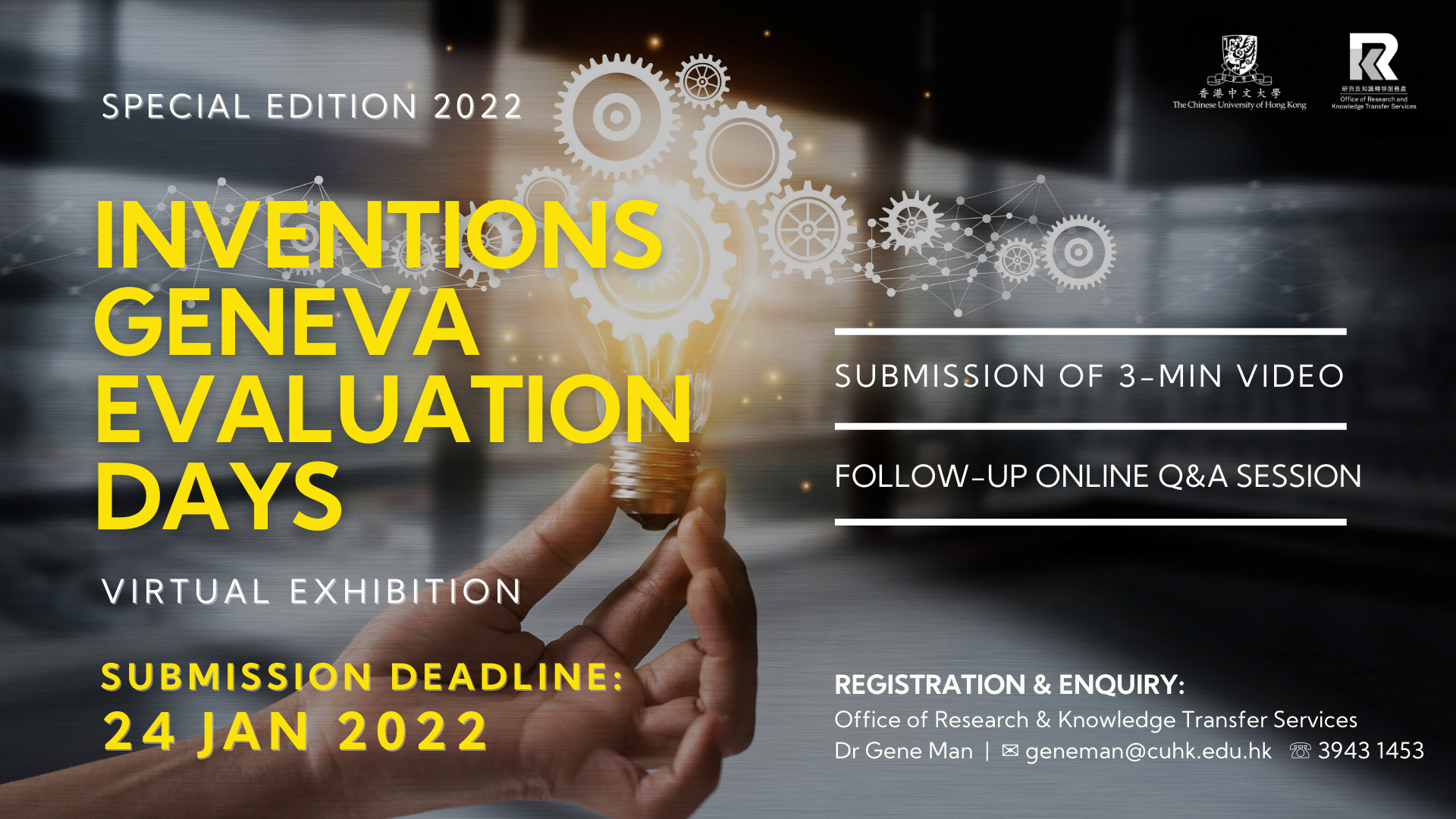 Event Date: 24 Jan 2022 12:00pm
Type: Competition
Organizer: Others - Swiss Federal Government, State and City of Geneva, World Intellectual Property Organisation
Coordinator: Knowledge Liaison Team
Overview
The International Exhibition of Inventions of Geneva ("IEIG") is recognized as one of the most prestigious innovation exhibitions. IEIG is one of the top three events held in Geneva, Switzerland annually and it is exclusively devoted to inventions and innovations. Under the patronage of the Swiss Federal Government and of the State and the City of Geneva, this event showcases and highlights innovations and inventions from around the world.
In consideration of the new wave of COVID-19, very recently the organizer has decided to switch the Geneva Invention Exhibition 2022 from a physical event to a virtual format. They are now accepting applications for new exhibitions
Eligibility
The technology/invention must be CUHK-related and protected by patent(s)
Project team may have any mix of the following CUHK members:

Professors
Research staff
Postgraduates
Graduates
Undergraduates
Application Details
(Internal Submission Deadline: on or before 12:00 noon, 24 Jan 2022, Monday)
1. Have a working prototype or manufactured article (e.g. technology and proof of concept)
2. Submit the application form* to ORKTS (orkts.liaison@cuhk.edu.hk)
3. Submit a 3-minute video# of each invention to whom before 14 February 2022 (sent by shared link e.g., WeTransfer or google drive)
* Participants can submit more than one invention.
# The video must clearly explain and demonstrate the operation of the invention with a focus on the innovation. It will be presented to the jury for evaluation. In the event of need, a zoom conference call will be set up with the inventor for further clarification with all or part of the jury members of the relevant class.
Event Timeline
Internal Deadline for submission of application form to ORKTS
(PDF and/or excel form)

24 January 2022

(before 12:00 noon)

Internal review and interview

1 – 11 February 2022

Submission of 3-min video

14 February 2022

Follow-up Q&A sessions via Zoom/Teams (if any)

16 – 20 March 2022
(exact time slot to be confirmed)

Result announcement

28 March 2022 (to be confirmed)
Assessment Criteria
1. Innovation and technology content
2. Applications/potential applications of the invention
3. Readiness for commercialization
4. Benefits brought to the public or specific community group(s)
You will be supported with
Important notes:
This virtual event, namely "Special Edition 2022 - Inventions Geneva Evaluation Days", is a special edition due to the pandemic.
In this edition, only GOLD, SILVER and BRONZE medals will be awarded.
Participants do not need to send any prototype to Geneva, however, the video submitted should clearly explain and demonstrate the operation of the invention with a focus on the innovation.
After the final deliberation of the Jury, results will be emailed to all participants and medals/diplomas will be sent.
Useful Information
Website: https://inventions-geneva.ch/en/home/
Click here for the guideline and regulation.
For further enquiries, please feel free to contact Dr. Gene Man on 3943 1453 (geneman@cuhk.edu.hk).