Set Sail Your Green Entrepreneur Dream: Climate Action Recognition Scheme 2021-22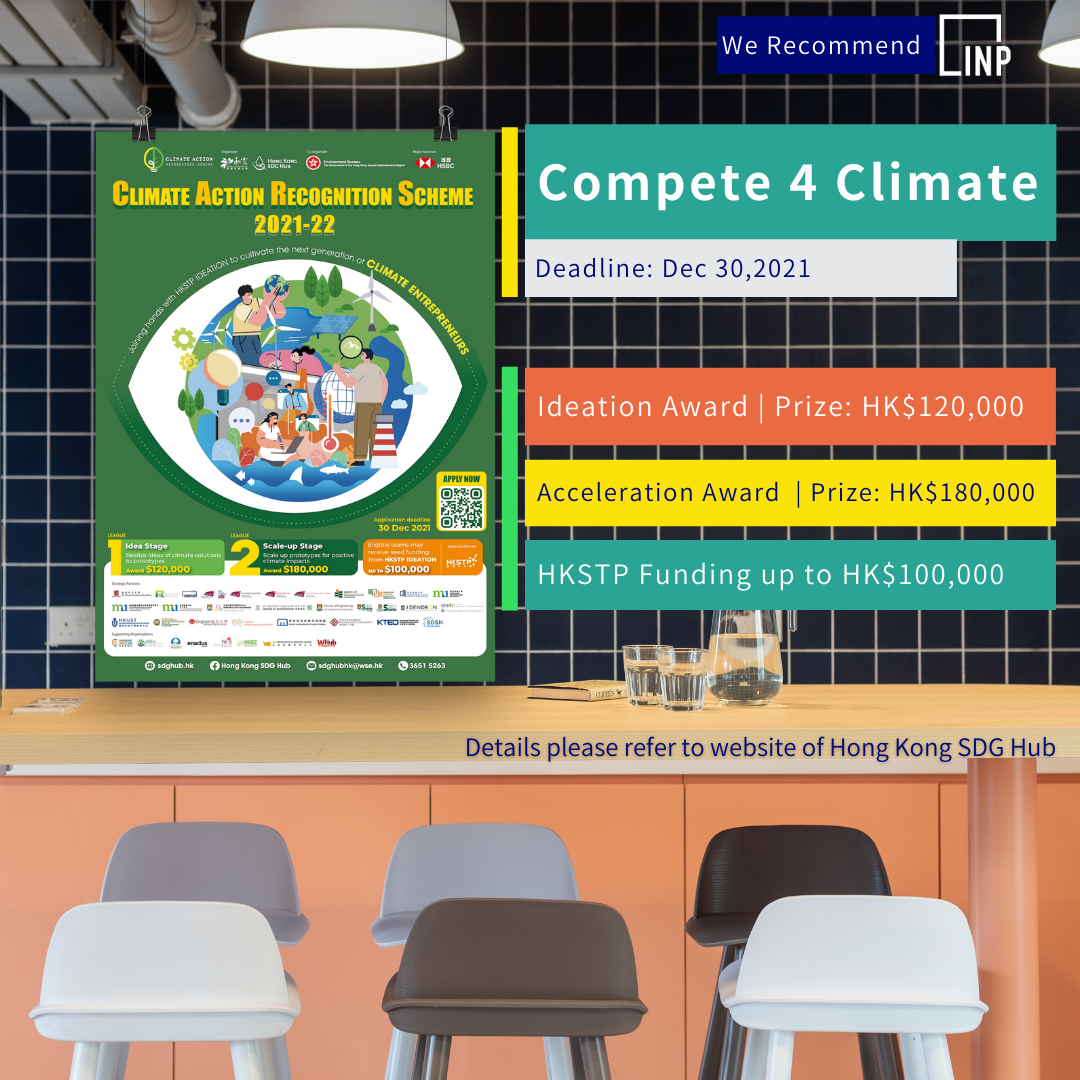 Event Date: 30 Dec 2021 11:59pm
Type: Competition
Organizer: Others -
Coordinator:
【 #Compete4Climate🌎】
有想法都可以報名參加!
一個企劃,兩個計劃,助你成為 「綠色企業家」!
不論你是剛起步,還是成立了初創不夠三年,都可以報名! (詳細條款請參閱活動官方網頁)
👉#氣候行動嘉許計劃 #CARS 2021-22
👉Hong Kong SDG Hub 主辦、環境局 協辦, HSBC 贊助
👉嬴取高達$280,000獎金💰💰
截止報名:30/12/2021
詳情 👉http://sdghub.hk/cars
---
Initiated by Hong Kong SDG Hub, co-organised by the Environment Bureau, funded by HSBC and supported by Office of Research and Knowledge Transfer Services, this scheme specifically addresses UNSDG no.13 - Climate Action!
Whether you simply have an idea or, already freshly started a business (within 3 years) to tackle the issue, you (aged 18-40) are eligible to join!
// CARS consists of two leagues, of which the ‼️application deadline is 30 Dec 2021‼️
👉 Idea Stage💡: For teams which are looking for realizing their ideas of climate solutions to prototypes✍️
👉 Scale-up Stage📡: For startups which are looking for scaling up their prototypes with positive climate impacts⚒️
APPLY NOW to actualize your ideas combating the climate crisis🌪️and saving the Earth !//
Leagues & Eligibility
League 1 -Idea Stage -Who Can Apply
The team leader must be a current student (part-time/ full time) or a graduate of a tertiary institution in Hong Kong. *Graduates should have graduated for no more than five years as of application deadline
League 2 - Scale-Up Stage - Who Can Apply
Applicants must be winners of an entrepreneurship or incubation programme OR Applicants are start-ups incorporated under Hong Kong's Companies Ordinance for not more than three years as of application deadline
Notes: Each application should consist of one to four core team members (including the team leader), who are between aged 18 and 40 as of application deadline.
Deadline 👉Dec 30,2021
Details 👉http://sdghub.hk/cars