27 Nov 2021 08:00am - 28 Nov 2021 05:00pm
CUHK VCCE Boot Camp 2021 (Deadline: 19 Nov 2021)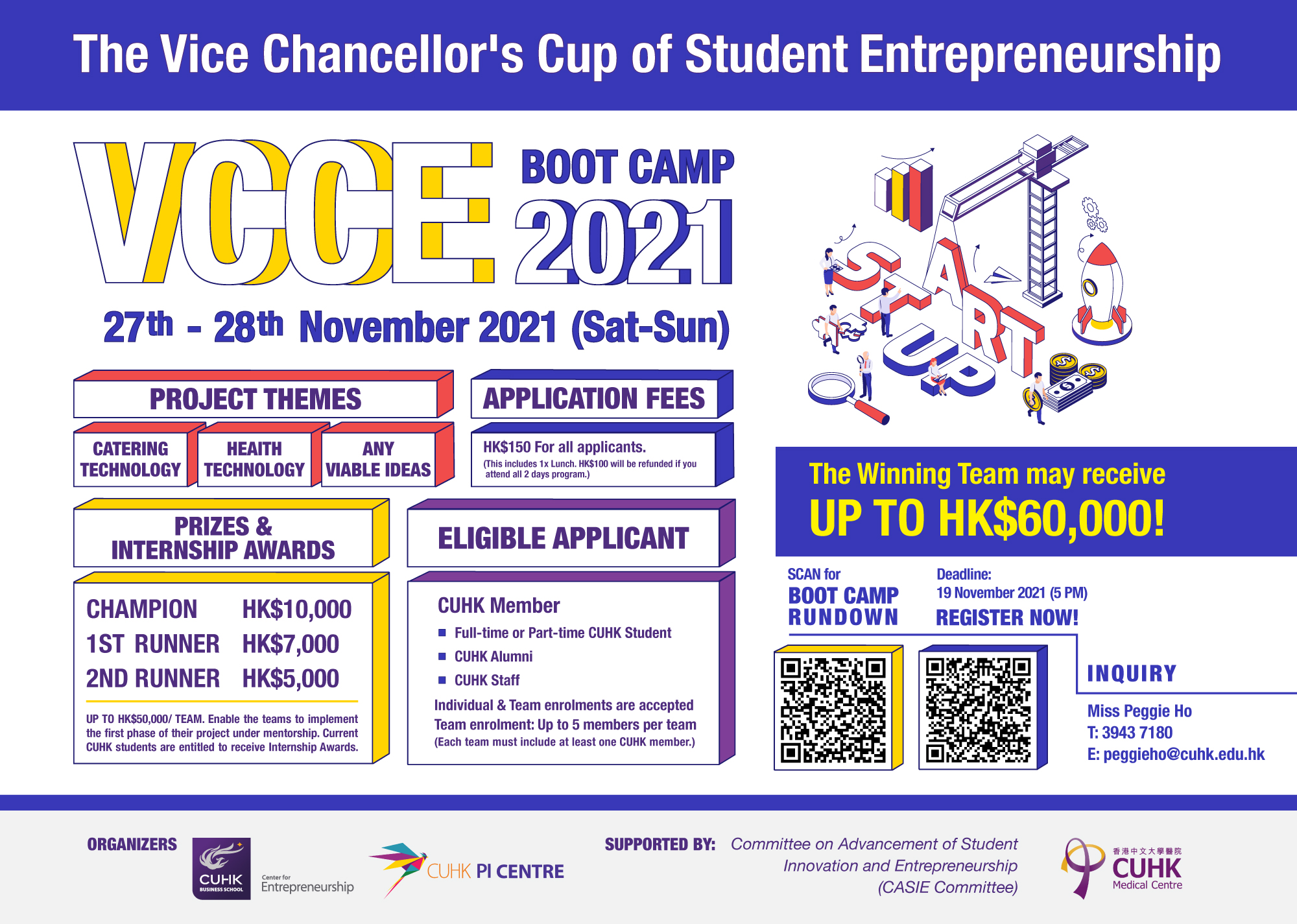 Event Date: 27 Nov 2021 08:00am - 28 Nov 2021 05:00pm
Type: Competition
Organizer:
Coordinator:
REGISTER NOW!! THE WINNING TEAM MAY RECEIVE UP TO HK$60,000
Project Themes
Catering Technology
Health Technology
Any Viable Ideas
Who Can Attend
All CUHK students, alumni & friends. Whether you are in the business, engineering science or arts. If you are interested to kick start your ideas & businesses, then pitch the idea to a panel of judges
Individual & team enrolments are accepted
Team enrolment: Up to 5 members per team, each team must include at least ONE CUHK member.
Prizes & Internship Awards
Champion: HK$10,000
1st Runner: HK$7,000
2nd Runner: HK$5,000
Up to HK$50,000 / team. Enable the teams to implement the first phase of their project under mentorship. Current CUHK students are entitled to receive Internship Awards.
Application & Business Idea Summary
19 Nov 2021 (Friday) by 5:00 PM (HKT) – Submit your Team Registration & Business Idea Summary (< 500 words in English)
24 Nov 2021 (Wednesday) – Shortlisted teams will be informed and prepare for the Boot camp on 27-28 Nov 2021.
Registration Deadline: 15 Nov 2021 (Monday) by 5:00 PM (HKT)
Please click HERE for the event rundown.
Register HERE
Inquiry: Miss Peggie Ho
Email: peggieho@cuhk.edu.hk
Phone: 3943 9522