01 Mar 2021 12:00am - 12 Apr 2021 11:59pm
Healthy Longevity Global Competition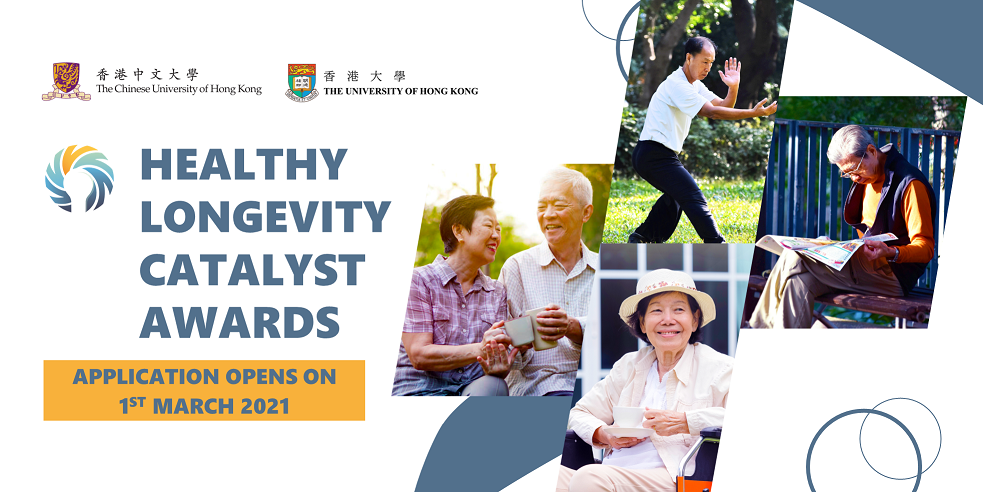 Event Date: 01 Mar 2021 12:00am - 12 Apr 2021 11:59pm
Type: Competition
Organizer: Office of Research and Knowledge Transfer Services
Coordinator:
Healthy Longevity Catalyst Awards are part of the Healthy Longevity Global Competition founded by the United States National Academy of Medicine (NAM), and are available in nearly 50 countries and territories. As the initial phase of the Global Competition, Catalyst Awards will reward bold, new, potentially transformative ideas to improve the physical, mental, or social well-being and health of people as they age, in a measurable and equitable way.
Successful applicants may receive funding up to US$50,000 for a period of 12 months. The 2021 cycle of Healthy Longevity Catalyst Awards (Hong Kong) will be open for submission from 1 March 2021 (12:00 AM, HKT) to 12 April 2021 (11:59 PM, HKT).
Who should apply:
• You are a full-time CUHK academic and research staff with the ranking of (Research) Assistant Professor, Research Fellow or above
• You have an innovative idea and/or breakthrough approaches that could extend the human healthspan and promote healthy aging
Healthy Longevity Catalyst Awards seek innovative approaches from any discipline that aim to extend the human healthspan, especially approaches that challenge existing paradigms or propose new methodologies or concepts. For application guidelines and further information, please visit the Healthy Longevity Catalyst Awards Hong Kong website.