19 Oct 2023 04:30pm - 31 Dec 2024 11:59pm
Launch of First Social Impact Academy Course: Foundations of Social Business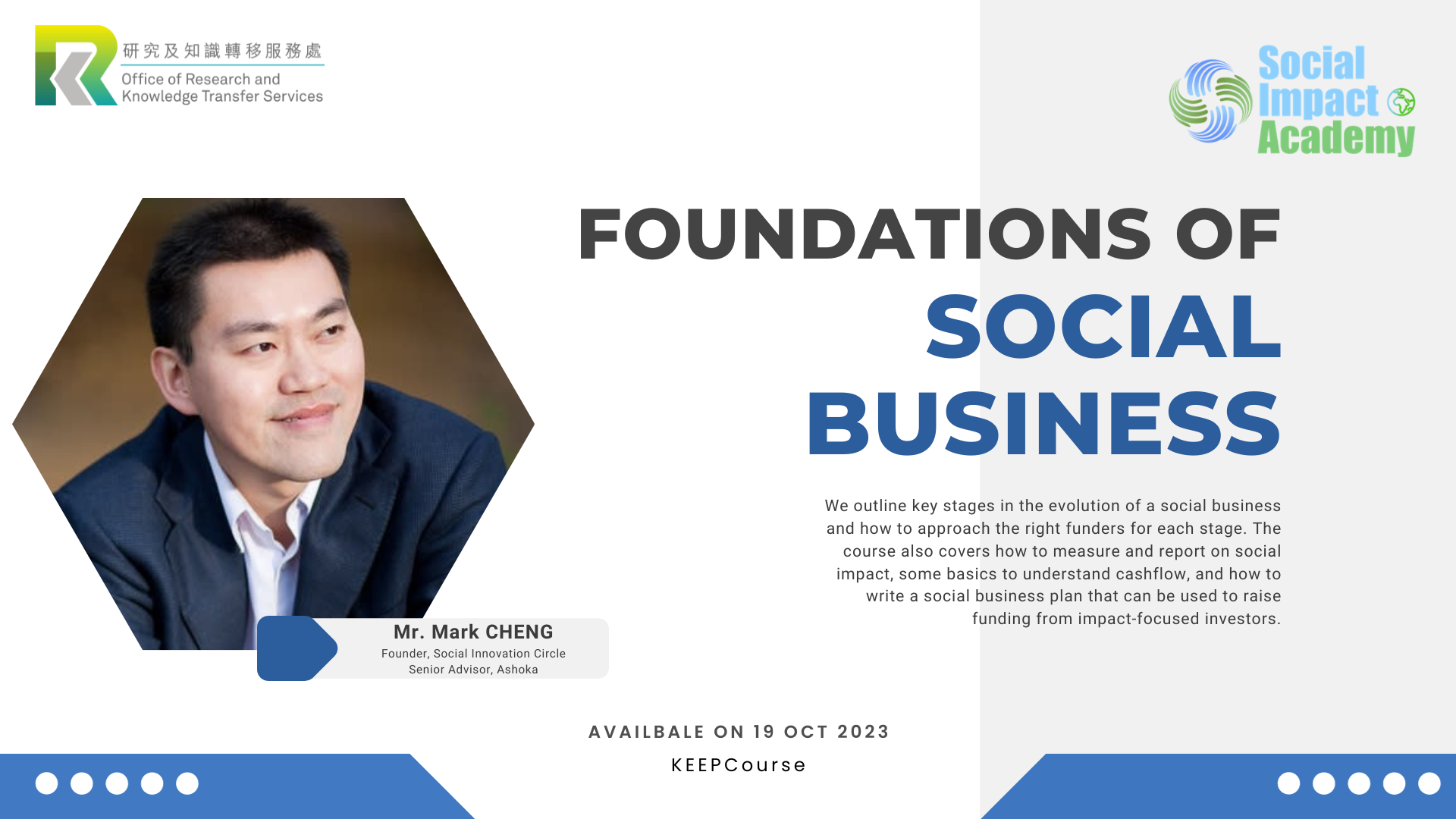 Event Date: 19 Oct 2023 04:30pm - 31 Dec 2024 11:59pm
Type: Others
Organizer: Office of Research and Knowledge Transfer Services
Coordinator: Social Innovation Team
Transform Your Research Into Social Impact
Turn your promising research into a purpose-driven social enterprise. This self-paced online course provides a practical foundation for researchers looking to launch impact-focused businesses.
Led by professional impact investor Mark Cheng, the course outlines key steps from developing your initial concept to building a financially sustainable model. Over just 3 hours of video content split into 20 bite-sized lessons, learn how to:
Map your enterprise's evolution from idea to maturity

Identify and approach the right investors at each funding stage

Quantify and articulate your vision's true societal impact

Grasp cash flow management and forecasting

Craft a winning business plan to attract funding
Gain insider knowledge on launching a successful social business that transforms lives. The course covers approaching the right funders for each growth phase, measuring and reporting social impact, understanding cash flow, and writing a compelling plan to secure investor funding.
Learn on your schedule through pre-recorded videos. Test your knowledge via a multiple choice exam and receive certification. Say "yes" to turning your promising research concept into a purpose-driven enterprise ready to drive real change.
Instructor:
Mr Mark CHENG
Founder, Social Innovation Circle
Senior Advisor, Ashoka