18 Nov 2023 12:00am - 11:59pm
Hong Kong Laureate Forum (Recruitment Deadline: 18 Dec 2022)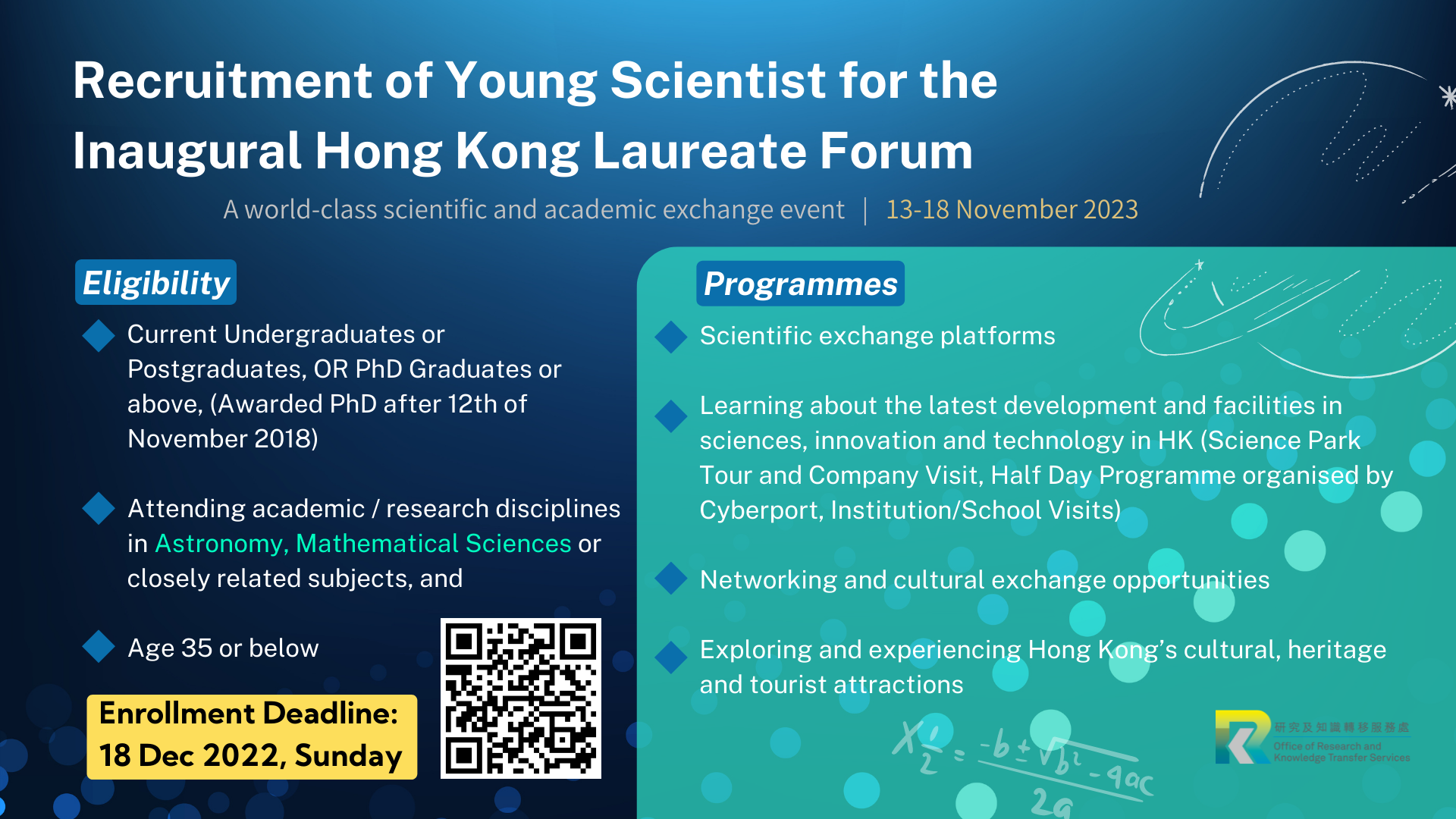 Event Date: 18 Nov 2023 12:00am - 11:59pm
Type: Others
Organizer: Others - Council of the Hong Kong Laureate Forum
Coordinator: Knowledge Liaison Team
Overview
The Council of the Hong Kong Laureate Forum Limited (the HKLF) is aspires to be a world-class scientific and academic exchange event to connect the current and next generations of leaders in scientific pursuit, as well as to promote understanding and interests of the young generation in Hong Kong and around the world in various disciplines in science and technology. The Forum will invite the participation of recipients of our home-grown Shaw Prize, a world-renowned award for the highest achievements in mankind, as well as distinguished researchers to spend a week interacting with about 200 young scientists from around the world. The young scientists will not only be inspired through ample exchange opportunities among own and cross generations of scientists, but also be encouraged to take part in cross-cultural, cross-discipline dialogues at this international platform.
Currently, it is now recruiting participants who are working or studying in the field of Astronomy, Mathematical Sciences and any related areas, and are passionate to pursue in the field mentioned to join the inaugural Hong Kong Laureate Forum (the Forum) in November 2023.
Forum's Programmes
The Forum's programmes comprise various elements, including, but not limited to:
Scientific exchange platforms (Plenary Lectures, Panel Discussions, Breakout Sessions, Breakout Presentations, Poster Presentations, Science Seminars)
Learning about the latest development and facilities in sciences, innovation and technology in Hong Kong (Science Park Tour and Company Visit, Half Day Programme organised by Cyberport, Institution/School Visits)
Networking and cultural exchange opportunities (Networking Luncheons, Inspiring Breakfast Gathering, Gala Dinner)
Exploring and experiencing Hong Kong's cultural, heritage and tourist attractions
Eligibility
Current Undergraduates or Postgraduates, or PhD Graduates or above (Awarded PhD after 12th of November 2018),
Attending academic / research disciplines in Astronomy, Mathematical Sciences or closely related subjects, and
Age 35 or below
Enrollment Details
(Deadline: till 18 December 2022, Sunday)
1. Register an account at https://hklaureateforum.org/en/login-default
2. Log in to the application system
3. Enrolled for the application
Event Timeline
| | |
| --- | --- |
| Enrollment Deadline | Till 18 December 2022 |
| Scientific review and Selection | Mid-March 2023 |
| Result announcement: | Late-March 2023 |
Financial Supports
Hong Kong Permanent Residents studying / working overseas / in Mainland:
✓ Round trip transportation costs

(Subjected to terms and conditions, such as financial ceiling)

Non-Hong Kong Permanent Residents studying / working overseas / in Mainland:
✓ Six nights hotel accommodation on 12-18 November 2023
(The HKLF may consider to offer partial or full sponsorship on transportation to successful applicants with financial difficulty)


For all participants, including participants residing in Hong Kong, the cost of below items will be fully covered by the HKLF Secretariat from 13 November 2023 to the morning on 18 November 2023:
✓ Meals/snacks (breakfasts#, lunches, dinners, light refreshments) arranged by the HKLF.
(Participants will need to arrange one dinner by themselves)
✓ Transportation (between designated hotel and the Forum venues; during tours and visits arranged by the HKLF)
✓ Tours, visits and cultural experience arranged by the HKLF
#For participants do not stay in the hotel arranged by the HKLF, morning light refreshments will be arranged on 13-18 November 2023.
Useful Information
Website: https://www.hklaureateforum.org/en/
For further enquiries, please contact HKLF Secretariat at programme@hklaureateforum.org or on 2905 6505.