03 Jan 2022 04:00pm - 07 Jan 2022 07:59am
I-Explore Camp (3-6 Jan 2022) (Deadline: 19 Dec 2021)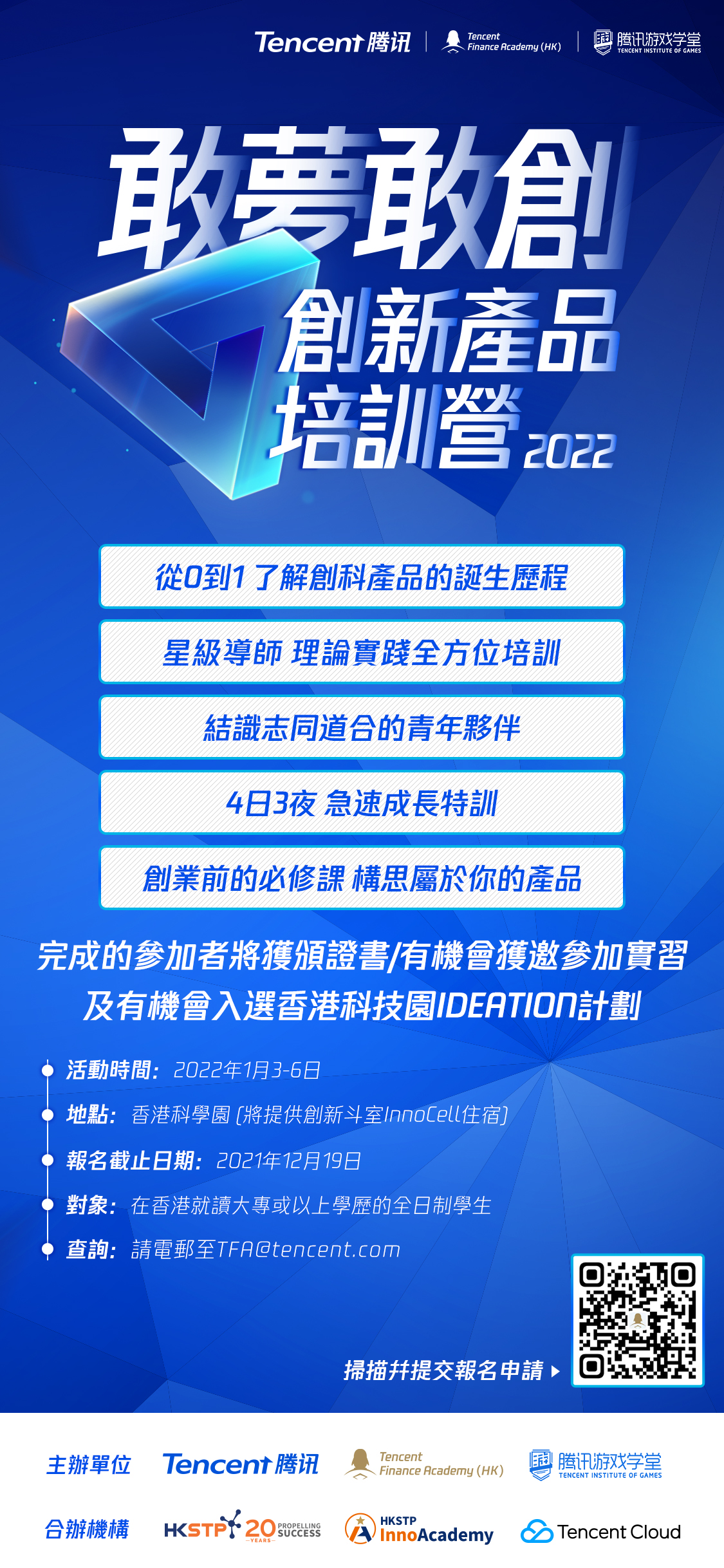 Event Date: 03 Jan 2022 04:00pm - 07 Jan 2022 07:59am
Type: Others
Organizer: Others - Tencent
Coordinator: InnoPort
Tencent Finance Academy (Hong Kong) and Tencent Institute of Games will be organising their inaugural I-Explore Camp, co-organised by InnoAcademy, Hong Kong Science and Technology Parks Corporation and Tencent Cloud. They are now inviting full-time university students in Hong Kong to participate in the camp. Participating students are expected to gain several benefits from this programme, including:
1. Exposure to product management theories and frameworks
2. In-depth understanding on emerging development of Hong Kong technology industry
3. Networking opportunities with other like-minded peers and industry experts
Details of the Programme:
Date: 3 January 2022 (Mon) - 6 January 2022 (Thu)
Venue: Hong Kong Science Park
Objective: Provide exposure to technology product management
Target Participants: Full-time students in CUHK
Cost: Free of charge
Registration Deadline: 19 Dec 2021, 11:59 pm
Enquiry: TFA@tencent.com
About TFAHK
On June 6, 2018, Tencent Finance Academy (Hong Kong) ("TFAHK") was officially established at the "Guangdong-Hong Kong-Macao Greater Bay Area FinTech Forum". By integrating the ample resources of Tencent, TFAHK aims to create an open platform to empower traditional financial and technological talents, and cultivate "Internet + finance" inter-disciplinary talents in an all-round way, so as to help promote the long-term development of fintech in Hong Kong.