21 Sep 2023 09:45am - 05:00pm
CUHK Innovation Day (21 Sep 2023)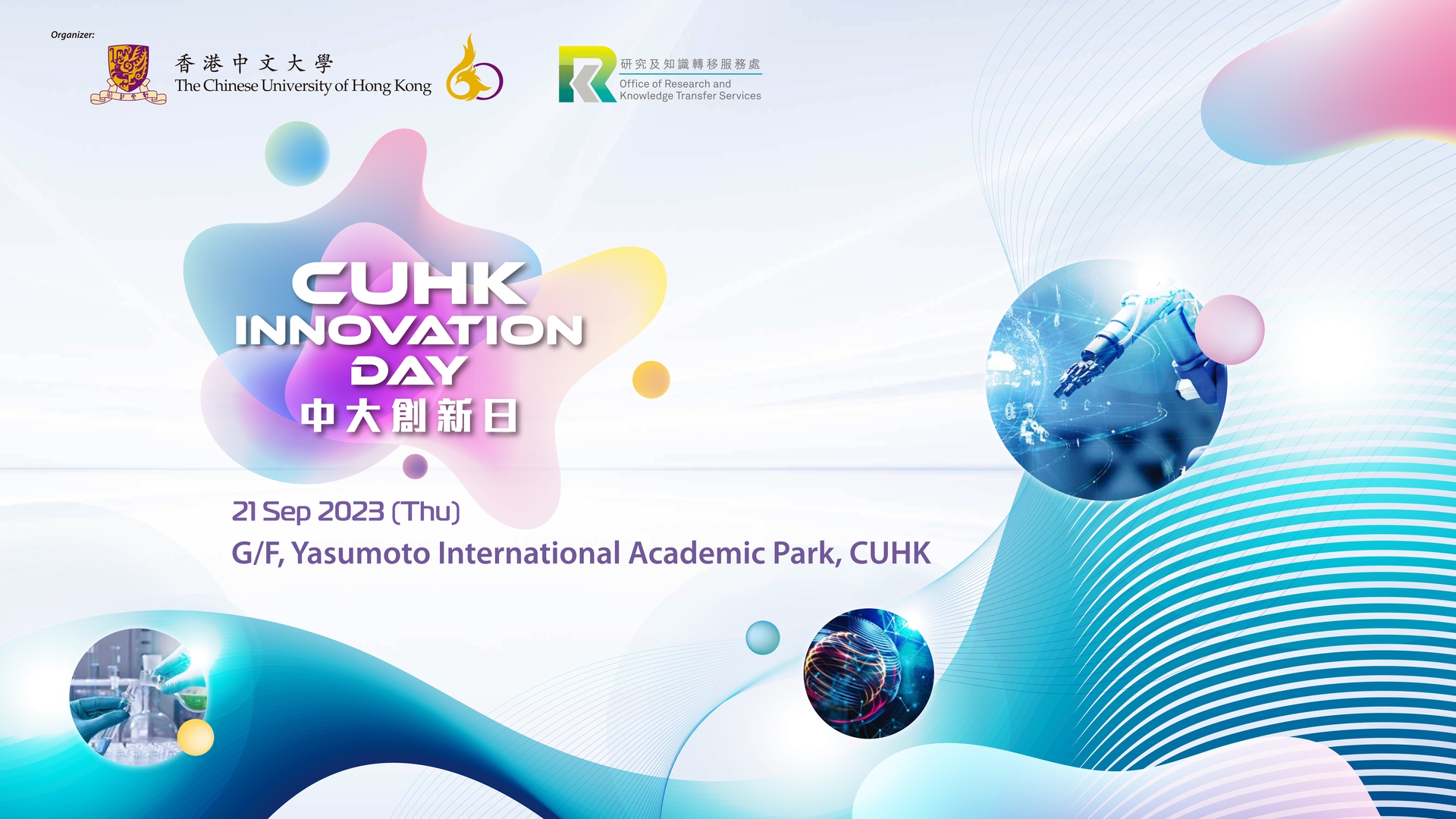 Event Date: 21 Sep 2023 09:45am - 05:00pm
Type: Exhibition
Organizer: Office of Research and Knowledge Transfer Services
Coordinator:
Register Now: https://innovationday2023.cuhk.edu.hk/registration
Registration Deadline: 19 Sep 2023 (Tue)
Overview:
Being one of the signature events celebrating the University's 60th Anniversary, CUHK Innovation Day 2023 will showcase CUHK's innovations and technologies and demonstrate CUHK's effort and achievements in promoting research and innovation in Hong Kong. At this event, we bring together government officials, policymakers, stakeholders in research and innovation, industry leaders, and the CUHK community to create synergy and forge meaningful connections.
Event Details
Date: 21 Sep 2023 (Thu)
Time: 9:45am – 5pm (registration starts at 9:15am)
Venue: G/F, Yasumoto International Academic Park, CUHK
Theme: How CUHK's innovations and technologies create value and bring positive impact to society
Programme Highlights:
Kick-off Ceremony: We are honoured to have Mr. Ivan KB LEE, JP, Commissioner for Innovation & Technology, HKSAR, and Professor Mai-har SHAM, Pro-Vice-Chancellor / Vice-President (Research), CUHK, officiating the kick-off ceremony.
Official Launch of CUHK Innovation Limited: It is a newly established company wholly owned by The Chinese University of Hong Kong to make investments in innovative business and impact ventures related to the University's technological innovations. Apart from MoU signing ceremony, the launch will also feature a panel discussion to talk about how to bring HK academic institutions' innovations to successful product development and to the market from the perspectives of industry practitioners, investors, policy makers and professors.
Thematic talks: Speakers from the distinguished CUHK InnoHK Centres will share their innovations and their societal impact.
Elevator Pitch Competition: Technology start-ups will be invited to present its business ideas and innovative solutions in several minutes. The competition provides an opportunity for innovators to meet and engage with potential business partners and investors.
Exhibition: Booths will be set alongside to highlight outstanding startup projects by our academics, students and alumni and demonstrate CUHK's research excellence and outcomes.
Date: 21 Sep 2023


Enquiry: Innovation Day Secretariat (3943 9568 / innovation.day@cuhk.edu.hk)