27 Oct 2021 09:00am - 30 Oct 2021 06:00pm
International ICT Expo & International Medical and Healthcare Fair 2021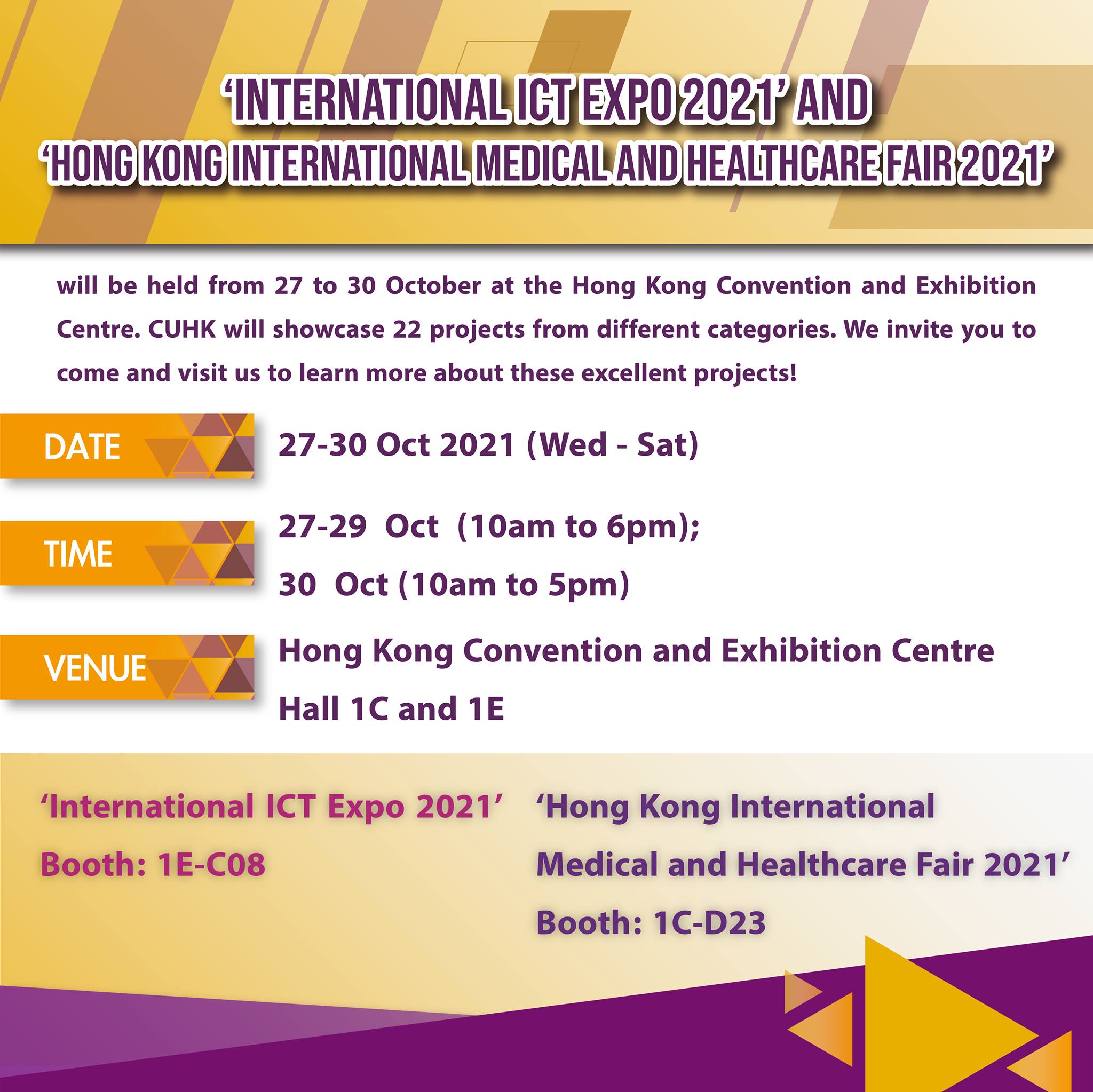 Event Date: 27 Oct 2021 09:00am - 30 Oct 2021 06:00pm
Type: Exhibition
Organizer: Others -
Coordinator:
International ICT Expo 2021
It is a professional trade fair showcasing the latest technologies and solutions in information and communication technologies.
Date: 27-30 Oct 2021 (Wed - Sat)
Time: 27-29 Oct (10am to 6pm); 30 Oct (10am to 5pm)
Venue: Hall IE, Hong Kong Convention and Exhibition Centre
CUHK Booth No.: 1E-C08
Admission: Please click here to pre-register on or before 26 Oct 2021
More Details: http://ictexpo.hktdc.com
Hong Kong International Medical and Healthcare Fair 2021
It is an Asia's premier medical fair which offers a wide range of latest medical devices and supplies, including hospital equipment, household medical products, rehabilitation, elderly care, laboratory equipment and medical disposables.
Date: 27-30 Oct 2021 (Wed - Sat)
Time: 27-29 Oct (10am to 6pm); 30 Oct (10am to 5pm)
Venue: Hall IC, Hong Kong Convention and Exhibition Centre
CUHK Booth No.:1C-D23
Admission: Please click here to pre-register on or before 26 Oct 2021
More Details: http://hkmedicalfair.hktdc.com