29 Sep 2022 03:00pm - 04:30pm
[TSSSU Fund] Technology Start-up Support Scheme for Universities 2023-24 - Info Session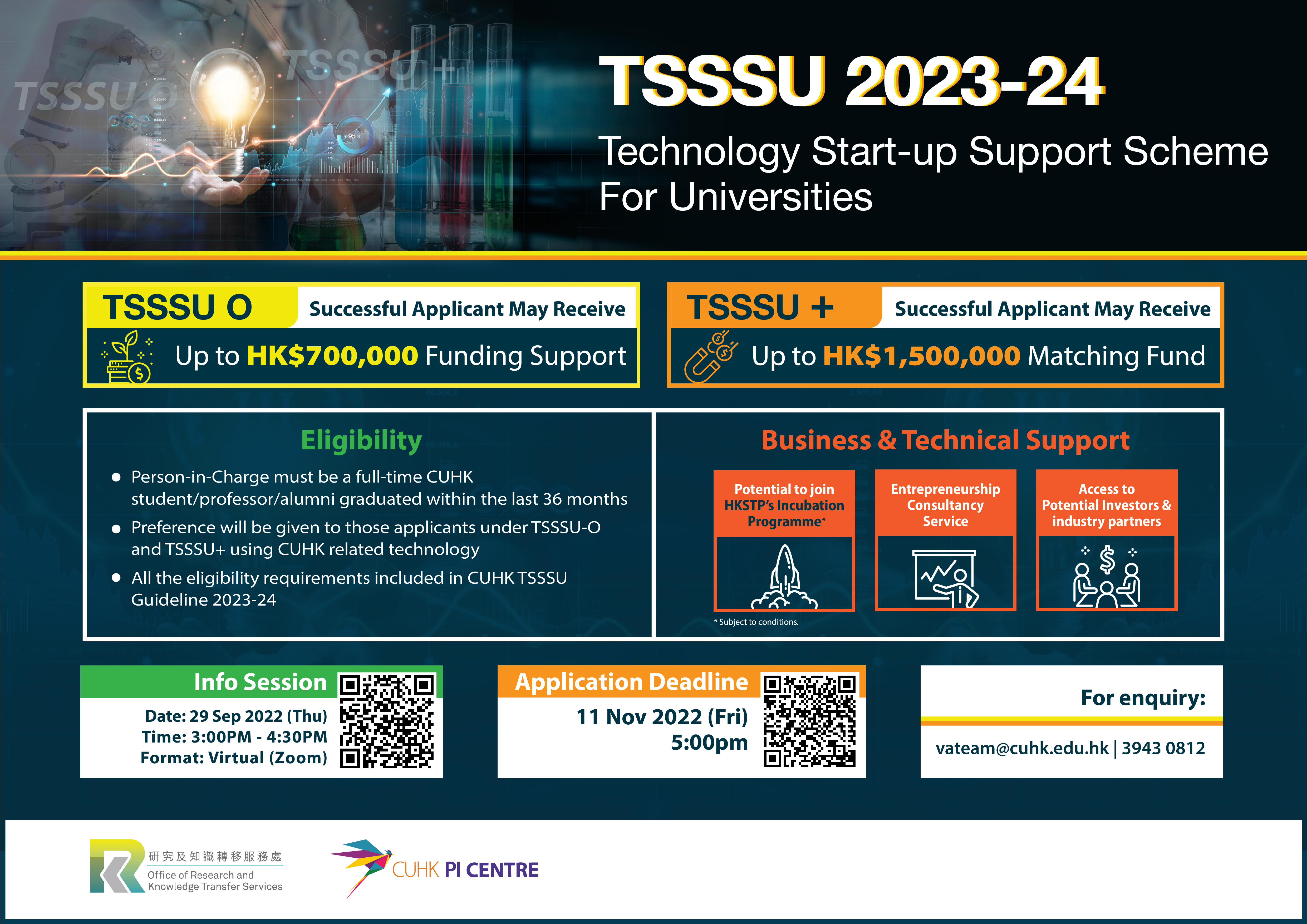 Event Date: 29 Sep 2022 03:00pm - 04:30pm
Type: Briefing Session
Organizer: Office of Research and Knowledge Transfer Services
Coordinator: Venture Acceleration Team
TSSSU 2023-24 Information Session
Date: 29 Sep 2022 (Thur)
Time: 3:00pm - 4:30pm
Format: Virtual (via Zoom)
*Link to the Zoom meeting will be sent to you by email 1 or 2 working days before the workshop.
If you haven't received it, please make sure that PI Centre is on your safe senders list and double-check your spam/junk email inbox.
Program details
Technology Start-up Support Scheme for Universities (TSSSU Fund) 2023-24
SSSU aims to support CUHK professors, students and alumni to transform their research output into a real business. With the TSSSU funding and dedicated support by ORKTS, CUHK members can focus more on the commercialization of technology and innovation of the University.
The Innovation and Technology Commission (ITC) of the Hong Kong SAR Government has set up the Technology Start-up Support Scheme for Universities (TSSSU) to encourage students, professors, and alumni from the six local universities, including CUHK, to start their own technology companies to commercialize R&D results.
Starting from 2023-24, TSSSU will comprise TSSSU-O and TSSSU+. TSSSU-O is the original component of the scheme which provides funding support to start-ups to commercialize the R&D results and innovative ideas. TSSSU+ is an enhancement measure to provide dollar-to-dollar matching funds to start-ups which have demonstrated good growth potential through securing investment from private sector.
What will TSSSU Fund give you?
Financial Support
(Successful TSSSU-O applicants) may receive up to HK$ 700,000 funding per year in 2023-24 for potentially up to three years
(Successful TSSSU+ applicants) may receive up to HK$ 1,500,000 matching fund per year in 2023-24 for potentially up to three years
Business and Technical Support
- Potential to join HKSTP's Incubation Programme*
- Access to potential investors and industry partners
- Mentorship from experienced entrepreneurship consultant
- PILOTS+ startup Programme
*Subject to conditions
Eligibility of Person-in-Charge (PIC)
- Current Full-time Students (either UG or PG) or
- Current Full-time Professors or
- Alumni graduated within the last 36 months, unless the alumni is an awardee of the last round of TSSSU
For more details, please visit https://www.orkts.cuhk.edu.hk/en/knowledge-transfer/funding/pilots-program-tsssu-fund
Application Deadline: 11 Nov 2022 (Fri), 5pm*
*The applicant must submit the online application. After complete the online application, a signed application form, with endorsement and supporting documents as listed in Section C of Annex A in hard copy, must be submitted in person to ORKTS at Unit 1A, 1/F, InnoPort, The Inter-University Hall by 5:00pm on Friday, 11 Nov 2022.